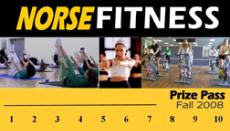 Courtesy of the Campus Recreation Center
School is a workout on its own, so when classes begin, most of us find going out with our friends, and drinking some not so healthy beverages. But we all too often ease the stress of a hectic semester and forget about real exercise.
However, fitness is a great stress reliever and to get students involved not only is the campus recreation center offering fun and unique classes, but they are offering prize passes.
With its incentive program listed on their website, "participants in the Norse Fitness program can win prizes."
To pick up your prize pass, you can see any instructor at the Norse Fitness center.
By getting 10 punches on your prize pass and you will receive a free fitness bag. All that's required to receive a punch on your card is your appearance at the gym.
Whether you want to take an exercise class, spend 20 minutes on a treadmill or shoot some basketball with your friends, all it takes is a little effort and removal of the Xbox controller that was permanently glued to your had over break.
The campus recreation center has obviously gotten in control of the college student mind and realizes free stuff equals appearances.
The campus recreation center also offers a plethora of fitness classes designed to meet anyone's schedule.
All classes are free of charge with your NKU student ID and are all located in the campus recreation center. Classes began Aug. 25 and continue until Dec. 20. Running Mon. through Sat., beginning 7 a.m. and continuing throughout the day until the last class at 9 p.m.
Don't feel limited to a fitness class or do-it-yourself instruction at the gym. NKU's recreation center also offers aquatics, intramural sports, outdoor adventures, personal training, club sports and programs for youths in the summer.
For a full list of fitness classes and other scheduled events you can visit campusrec.nku.edu.