The Fix deux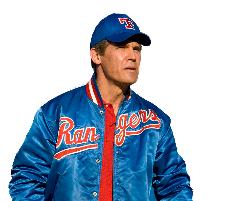 Associated Press
Drugs, sex and almost adolescent molestation are all on the Hogan family platter. Nick Hogan faced prison time for a car crash that injured his friend, Hulk Hogan was caught cheating on his wife with his daughter's good friend and Linda Hogan was left to pick up the pieces, the famous mom is ready for her time in the magazines.
It seems the former Mrs. Hogan might be coming to a campus near you. Apparently, she recently acquired the taste for newly legal men.
According to TMZ.com, Linda Hogan was caught fraternizing with her "almost jailbait boyfriend Charlie Hill in Venice Beach."
Oh, to be young and hot with a saggy old woman on the side.
Linda, who was pushing 30 when little Charlie made his way into the world, can now share her fashion sense and techniques on picking up 19-year-old boys with her daughter Brooke Hogan.
While some older celebrities are hitting up food courts in the local malls and falling into tabloid history, others are fighting back and breaking out of the paparazzi prison.
Britney Spears has seemed to be nothing but a never-ending disaster since the announcement of Kevin Federline in her life. We have watched her teach her infants how to drive, seen her shave her head and enter rehab on more than one occasion, but it looks like Britney is back!
Recent pictures of the pop princess show Spears looking better than ever. She seems to be cleaned up and on the right path to success or at least recovery.
Even Pete Wentz, lead singer of Fall Out Boy, is siding with team Britney. "Britney really proves how much the fans really matter, because the fans really want to see Britney win and turn it around," Wentz said in an article on People.com.
All we can hope for is a steady recovery and no more back-up dancers entering Ms. Spear's relationship radar.
Quote of the Week:
"I have opinions of my own [strong opinions] but I don't always agree with them."
– George Bush, President of the U.S, explaining his thought process. (2spare.com)