Men's soccer beat WSU 1-0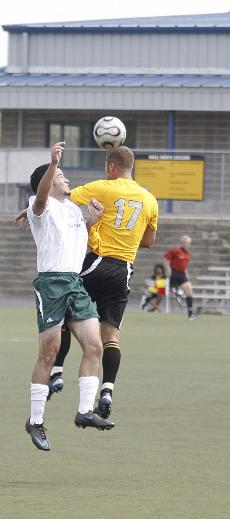 Tom Miller, Photogrpaher
The Northern Kentucky University Men's Soccer team continued the success of the 2007 season with a 1-0 victory over Wright State Aug. 22 in Dayton, Ohio.
With key losses to its defense after the graduation of Andy Bacon and Dan Impellizzeri, Norse goal keeper Michael Lavric had to step up and guard the goal.
Lavric played in the first half of the exhibition and saved two shots on the goal.
"We [the team] always like competition and this season is going to be big a big one with the graduation of our players from last year," Braden Bishop said. "Coach [John Basyalga] really wanted to beat them and we did."
The only Norse goal came in the 29th minute as junior stand-out Bishop assisted newly transferred Mike Jonca with his first NKU goal.
He had an earlier chance to score, but the shot was deflected wide of the goal.
Jonca, who transferred from Western Kentucky University after its soccer program folded in 2007, had five shots in the game; four on the goal.
It was a hard fought battle as Wright State had 11 fouls in the first period and 16 overall.
NKU Alex Allison received two yellow cards and was ejected from the game.
According to Bishop, the team leader in goals for the past two seasons, the presence of Jonca as a transfer from a Division-I school will help the Norse .
"I feel he will fit in really well, and we didn't have that traditional midfielder," Bishop said. "It is a relief for us because he has that D-I experience and not just one year, but he was there for three years."
Bishop says that he was ready to get away from practice and start playing games.
"The two-a-days were rough, and we needed a break," Bishop said. "It was nice to get out there and play a game."
The Norse have played exhibition games for the past three years, but only this year did NKU post the game on its athletics site, according to Bishop.
The Norse now gear up for their season opener Aug. 29 against West Virginia Wesleyan in Buckhannon, W. Va.
The men's team will open up their home schedule at noon Aug. 31 at the Town ' Country Sports Complex in Wilder, Ky against Charleston University (W. Va.).
Click here for stats on the Men's Soccer exhibition game.