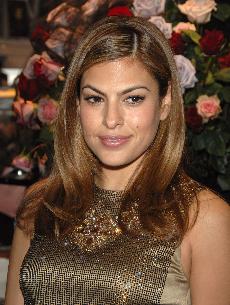 Associated Press
From Disney teen sensation to prostitot, Miley Cyrus is apparently not the innocent daddy's girl whom she portrays on her Disney show Hannah Montana.
The 15-year-old is spunky and a bit weird at times, but recently she has been called promiscuous. After some revealing pictures emerged of her pulling down her t-shirt to expose a green bra with an unknown male beside her on MySpace, a nearly naked photo shoot with Vanity Fair and not to mention the photos of her basically making out with her best friend Mandy, this young starlet seems to be heading towards being the biggest train wreck since Lindsey Lohan.
The Vanity Fair photo shoot is one of the most controversial moves Miss Cyrus has made since her very adult-like photo with best friend Mandy, which involved two girls sharing candy orally; it's like porn scene meets "Lady and the Tramp." However, at the photo shoot for Vanity Fair, Miley was only covered by the blanket she held over her chest. Annie Leibovitz, who took the photos, said "Miley's parent were on the set all day. Since the photo was taken digitally, they saw it on the shoot and everyone thought it was a beautiful and natural portrait of Miley."
The teen pop-sensation is singing a different tune and is very upset and offended by the pictures and article published in Vanity Fair.
"I took part in a photo shoot that was supposed to be 'artistic,' and now, seeing the photographs and reading the story, I feel so embarrassed," Miley said. "I never intended for any of this to happen, and I apologize to my fans, who I care so deeply about."
You would think any 15-year-old would know better than to take her clothes off in front of a camera, especially a teen who is estimated to be worth $1 billion by the end of this year. With a picture of you picking your nose enough to ruin your name in Hollywood, certainly an underage pop star participating in a sexy photo shoot isn't great for your image either.
As one celebrity is baring all, another is getting married for the third time. Carmen Electra is marrying her third husband, Korn Guitarist Rob Patterson. From the Vegas wedding to NBA basketball player Dennis Rodman in 1998, and public reality show involving her second husband Dave Nevarro, best known as the guitarist for The Red Hot Chili Peppers, let's hope this one works out.
With a black engagement ring upon her finger as a symbol of their love, I think the color is sign enough that this is another lustful adventure for Electra to get her name in the media and an excuse to throw another odd but lavish party.
That's all I have for now. You will just have to scavenge for your own celebrity gossip over summer break, but I will be back in the fall to update you on all the juicy gossip that has collected over the hot summer months and long awaited vacation.
Quote of the Week:
"I've never really wanted to go to Japan. Simply because I don't like eating fish. And I know that's very popular out there in Africa."
– Britney Spears, on why Japan is not the place for her. (2spare.com)