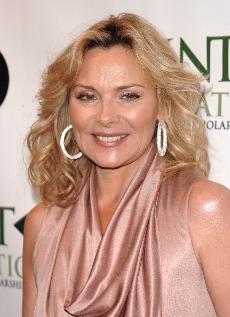 Sex, sex and more sex. When the finale of "Sex and the City" aired, the strong following of over-obsessed fans who fell victim to shoes, sex and chic designer outfits were devastated to say the least.
Although they still have an entire month left before their hunger for the "Sex and the City" movie can be fed, big secrets are already being spilled from the movie's main stars.
Cynthia Nixon, who plays Miranda, revealed to Star Magazine a prominent character will die in the movie.
"A character dies in the movie," Nixon said. "There's a loss that happens that's pretty tough. Something significant happens to Carrie, and it really forces her to ask questions that you have to ask about yourself."
The movie, which will put out in theaters May 30, has an assortment of characters that could possibly meet their maker. Just look at Samantha (Kim Cattrall), a promiscuous, almost 50-year-old woman who has an obsene amount of sex and not mention developed breast cancer during the last season of "Sex and the City."
Celebrities are looked at as both invincible and the closest thing to royalty in the United States, but Sandra Bullock and her hubby Jesse James proved that Hollywood A-listers are just as fragile as us mere mortals.
The two were hit by a drunken driver April 18 while returning to their hotel in Gloucester, Mass.
Bullock, who is filming "The Proposal" there, was allegedly hit by a Subaru station wagon, driven by 64-year-old Lucille Gatchell who had an alcohol level of two and a half times the legal limit, according to police.
"It's unfortunate," Lt. Gerry Cook of the Gloucester Police Department said to the Boston Herald. "But it shows you that no one is immune from drunk drivers, no matter how famous you are."
Fortunately, the two superstars were unharmed.
We are all sick of Britney Spears and her underage prego sister, but this is worth mentioning. Recently, Britney has been spotted rekindling her love with her ex-hubby Kevin Federline.
The two's secret rendez-vous have been arranged secretly with their families help, but starmagazine.com has a family insider who has confirmed the two's relationship.
"They were discussing the boys and how they're doing," a family insider told Star. "When she suddenly got in close and kissed Kevin. She did it because she felt so close to him at the moment."
They've shared kisses, talked like mature adults and interacted with their children – together. Wow! They are actually starting to act like a family who doesn't need committed. There might be hope for their two adorable boys after all.
Quotes of the Week:
"British girls are great. I'd love to meet the Spice Girls – they seem like a lot of fun, if a little naughty." -George Clooney on international desires. (starpulse.com)