Softball woes continue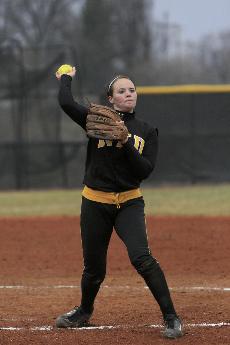 Tom Miller
The Northern Kentucky University Softball team was swept in a double-header by Southern Indiana April 6 in Evansville, Ind.
In the first game, the Screaming Eagles (23-15, 10-4 in the Great Lakes Valley Conference) defeated NKU (11-19, 4-8 in the GLVC) 6-0, scoring all of the runs off of Lady Norse pitcher April Ehlers. The six-run inning was capped off with a three-run double by Southern Indiana third-baseman Kristina Eickholt.
Ehlers (4-10) was roughed up for 10 hits in just 1 2/3 innings. Freshman pitcher Chelsie Roy relieved Ehlers, pitching 4 1/3 scoreless innings, surrendering four hits and striking out three.
The good note for Lady Norse was shortstop Rose Broderick breaking up the no-hitter in the sixth inning.
In game 2, the Lady Norse fell to the Screaming Eagles, 7-0.
Southern Indiana jumped to an early lead as it scored in each of the first four innings.
NKU starting pitcher Amanda Smith (5-5) managed only three innings on the mound, giving up five runs on nine hits, striking out one.
The Lady Norse struggled to produce runs in the double-header and in game 2, the team had eight hits, but left eight on base, being shutout for the second consecutive game.
The double-header on April 5 with the Lady Panthers of Kentucky Wesleyan proved to be a little smoother for the Lady Norse as they split the two games in Owensboro, Ky.
In the first game versus the Panthers, it took extra innings to finish with the Lady Norse falling in the 11th inning, 3-2.
Amanda Smith pitched 10 1/3 innings, giving up three runs on 10 hits, walking four and striking out three.
Right-fielder Katybeth Coode hit her sixth home-run of the season and drove in the only two runs by the Lady Norse.
In the second game, NKU edged out Kentucky Wesleyan (8-22. 2-8 in the GLVC) 7-5.
Ehlers started for the Lady Norse, pitching seven innings, giving up five runs on 13 hits and striking out 11 Lady Panthers.
The Lady Norse had a strong game at the plate as five of their starters had two hits in the game with catcher Chelsea Toler leading the way with three RBIs in the game for NKU.
Next the Lady Norse face Findlay at home, April 10 at Grein Softball Field in Highland Heights, Ky. First pitch of the double-header against the Lady Oilers is set for 3 p.m.