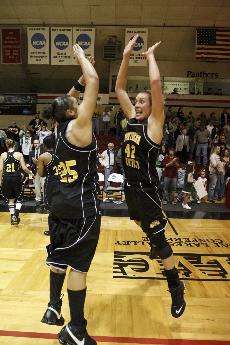 Tim Downer
The Northern Kentucky University Women's Basketball team is in the Elite Eight after knocking off Missouri-S'T 60-52, March 17 in Springfield, Mo.
This year the Norse had to fight early in the tournament and knock off the No.1 seed Drury on its home court, 84-65 March 15, to advance to play Missouri-S'T.
In 2003, the Norse made it to the national championship game before losing to South Dakota State 65-50.
NKU improved its record to 25-8 and captured its first Great Lakes Region championship title since 2003.
NKU shot 70 percent in the second half against the Drury Panthers to pull off the upset. Junior forward Cassie Brannen led the way for the Norse, scoring 15 of her career-high 29 points in the second half.
Brannen wasn't finished playing yet – she scored 25 points against Missouri-S'T and was named the Great Lakes Region Tournament's Most Outstanding Player, averaging 27 points in the last two games of the region.
"Cassie Brannen was incredible in this tournament and she deserved that award," Winstel told NKU Sports Information. "Cassie drew fouls and made the free throws, and that is how you win tournament games."
The Norse will play Wingate from the South Atlantic Region March 26 at 3:30 p.m.
Wingate is 26-7 after winning the South Atlantic Championship over Clayton State 82-72.
This will be the first time that the Norse and Bulldogs play each other.
The winner will face either Alaska-Anchorage or Franklin Pierce March 27 at 8:00 p.m. in the Final Four.
If the Norse advance, the game will be televised on ESPNU (channel 514 on Insight Digital Cable, Channel 148 on Dish Network and Channel 609 on DirecTV).
If the Norse advance in the Final Four, and go on to compete for the national championship, March 29 at 6:00 p.m. ,the game will be televised on ESPN2 (Channel 32 on Insight, Channel 144 on Dish Network and Channel 209 on DirecTV).
All Norse basketball games will be on the WIOK 107.5 FM and the radio broadcast can also be found on www.nkunorse.com.