Holmes wins award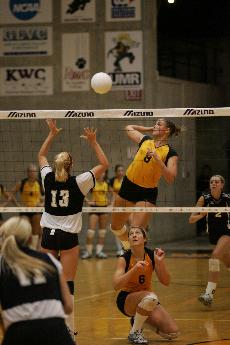 Tim Downer
For some, when their playing days are over, credit for their play ends with it. For senior volleyball player Liz Holmes, the awards keep coming.
The NCAA awarded Holmes a $7,500 post-graduate scholarship.
The NCAA awarded 58 post-graduate scholarships to 29 men and 29 women who participated in fall sports, according to a Northern Kentucky University Sports Information press release.
The award was a special one for Holmes, one she said highlights her career at NKU.
"It was really fitting," Holmes said. "It probably means more to me than any other award, because it is not about athletics, it is about academics."
Holmes, currently a senior history major, will pursue her masters of history while assisting head coach Carlos Chia with the NKU volleyball team.
Chia has coached Holmes throughout her time at NKU, but they go back even further. During high school, Chia coached a summer volleyball club that Holmes played for three years.
For Chia, recruiting, coaching and having a player like Holmes was like having the "luck of the draw."
"She is not only a great athlete, but also a class-A student," Chia said. "Her talent and demeanor has allowed the other players to look up to her and realize what it takes to be good."
For Holmes and Chia, the correlation between them has never had a rough moment in the years they have been together on the volleyball court.
"Carlos (Chia) and I have a good relationship since I have played for him for seven years now," Holmes said. "He has had very high expectations and helped push me athletically and academically."
After graduating from Mercy High School in 2004, NKU was not her first choice for collegiate volleyball. It was her time with Chia that made the decision to play here was a smooth move.
"When I was growing up in Cincinnati, I had always wanted to go far away," Holmes said. "The decision to come here was easy, because of having coach Chia for three years, making the transition from high school to college easier."
Holmes finished her career as NKU's all-time leader with 1,850 kills, according to the NKU Athletics Web site.
The Great Lakes Valley Conference named Holmes the conference player of the year, leading the GLVC in hitting percentage (.432), kills (4.55 kpg) and points (5.37).
The awards didn't finish there. Holmes was also named the Great Lakes Region Player of the Year and was part of the American Volleyball Coaches Association All-America first team.
When her post-graduate studies come to an end, Holmes plans on becoming a high school history teacher and volleyball coach.
"I loved history but more importantly I enjoy helping others," Holmes said. "I really like helping and teaching high school students. I would love to teach U.S. history and I find geography and political science to be interesting too."