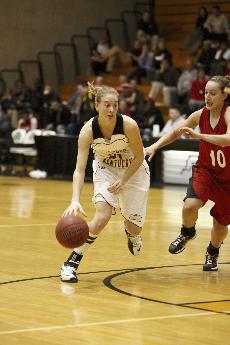 Tim Downer
As Bob Dylan would say, 'The Times They Are A-Changin'.' That is how the Northern Kentucky University Women's Basketball game went in the opening round of the Great Lakes Valley Conference Tournament March 4.
The Norse (21-7) were rewarded with a home game as they faced Southern Illinois University of Edwardsville (17-11), defeating the Cougars 68-56.
After a 10-4 run by NKU, the Cougars held the same until the Norse pulled ahead to 30-29 at the half.
"I really felt like they were going come in and play a tough game," head coach Nancy Winstel said. "They have a lot of seniors and a real good coach. I felt that we were pretty lethargic on defense and that carried over to our offense."
The game was a tug-of-war. The score stayed level for much of the second half and neither team showed the momentum to pull away.
For Winstel, the key player to the victory was junior guard Danyelle Echoles.
"I thought Echoles was the difference maker tonight for us," Winstel said. "We could have been down 10 points at halftime, but we were up one. I think Echoles was the main reason for that."
The defense continued their lackadaisical play as SIUE senior forward Amber Shelton dominated the inside scoring 22 points in the game.
During a media time-out with 9:19 in the game and the Norse trailing 56-51, Winstel erupted at her players. She felt that the other team was playing like it was the last game of their lives and, if NKU was going to win the game, they were going to have to earn it.
For the remainder of the game, the Norse's defense stepped up and held Shelton and the Cougars scoreless for remainder of the game.
"When you get to tournament time it is surviving time and we did that tonight," Winstel said. "I have been in this mode since February, you know what I mean if you follow us. We could've lost this game, but we found a way, and good for us. They came in here and beat us last season and for us to come out and win was good."
For the last nine years, the tournament was held at Roberts Stadium in Evansville, Ind., but after a decision made by the commissioner all GLVC tournament games are being played on campuses.
For coach Winstel the move to being at home was a good feeling.
"It's awesome," she said. "We would hope for Drury to get beat and for us to hold the finals here at home, but to have that event back on Feb. 16 and then to have this one tonight was a great opportunity. I said to the players this is the first time in the conference history that schools got to host the tournament and that you guys get to open a tournament game at home. It may never happen again."
Playing the opening tournament game at home is not only exciting for the players, but for Winstel as well.
"I do like it," she said "If we would have lost one of the games last week, we would have had to travel to Missouri, it would have been brutal. We earned our way home. We lost to Bellarmine and Kentucky Wesleyan two weeks ago and to come back last week and sweep Parkside and Lewis. That was huge and gut check time."
For the game, foul trouble became a fashion for the Norse as Healy fell into trouble with her fourth foul with 8:32 remaining. That wasn't going to stop Winstel from putting her lead scorer back into the game.
"Angela Healy was sitting on the bench with four fouls," Winstel said. "At the 5:36 minute mark, I told her, 'You have 5:36 left, you go out there and use those minutes while you are out there and if you foul out, you foul out.'"
The Norse pulled out the win, advancing to the semi-final game, March 8 as they will play Missouri S'T at Drury University. NKU will try to avenge a Jan. 26 24-point defeat to the Miners.