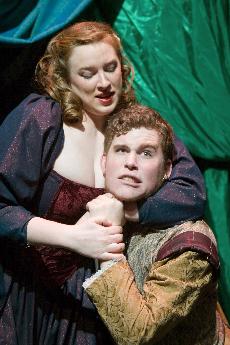 Photo provided by NKU Department of Theatre and Dance
In today's world, if a man was to order his wife from her father and expect payment, a restraining order and a trip to the hospital would be all he would get. But in the time of Shakespeare, when love was based on titles and money and treated as a contract binding of two properties, this arrangement was normal.
In the latest theatrical production at Northern Kentucky University, "The Taming of the Shrew," this type of arranged marriage is precisely what the play is based on.
Set in Padua and Verona, Italy and Environs, it centers on two sisters; Katherine (Hannah Dowdy), who is vicious and terrifying, and Kate's younger sister Bianca (Mollie Gober), who is sweet and soft-spoken. The men in town are all smitten and eager to marry young Bianca, but are forced to wait until her eldest sister, Kate, is spoken for.
Courting a woman who is loud, obnoxious and as violent as a man is not a task that most noblemen wish to undertake; however, Petruchio (Brad Frost) is more than willing to marry the angered sister when he learns of the enormous dowry that would be his upon their marriage. Kate's father is pleased to learn of Petruchio's interest in his daughter, as she has been a headache for him for far too long, and graciously accepts his proposal.
As Kate is promised to Petruchio, the scam for Lucentio (Sam Rueff) is underway to win the heart of fair Bianca. Lucentio poses as a tutor and exposes his secrets to Bianca, as the other suitors within the town have their own malicious plots to win the young beauty.
The members of the cast seemed to be born for their roles. The acting, which is usually overdone in Shakespearean plays, was perfectly choreographed to fit the characters. Dowdy was hilarious and astounding to watch, she definitely could have given Julia Stiles (the star of the "Shrew" adaptation "10 Things I Hate About You") a few acting tips.
Learning the verbiage of Shakespeare's time and memorizing such in-depth, detailed lines earns the cast a great deal of respect. Not only did they have to learn the words, which are nearly a foreign language today, but they also had to portray such different and eccentric characters with that language.
The set was gorgeous, with hand-painted cobblestones all over the stage floor and a beautiful bi-level Italian structure, which served as the housing, courtyards and any other place featured in the play. It was like looking into a movie screen. It was astounding.
The costumes were just as beautiful and elaborate as the set.
From the light and airy music that opens the production to the bloodcurdling screams that erupt from Katherine's mouth, not to mention the sexual innuendos to the love that's earned in the end, this play will delight your senses. It will form debate and make you eager to brush up on your Shakespeare.
The play runs until March 2 in the Corbett Theatre. Shows run at 3 p.m. on Sunday and 8 p.m. Tuesday through Saturday. Adult tickets run for $10, faculty and alumni for $9, senior citizens for $8 and student tickets for $6.