Women, Men end Regents Hall era with key victories
Matthew Birkholtz
February 19, 2008
Filed under News
Hang on for a minute...we're trying to find some more stories you might like.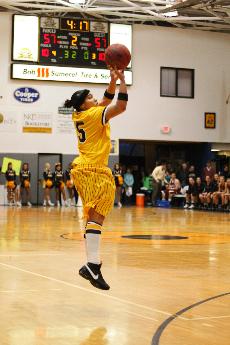 Tim Downer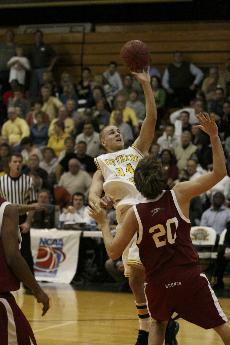 15 mark in the first half. NKU welcomed back former men\'s coaches
Mote Hils
,
Mike Beitzel
and
Ken Shields
.
Shields
led NKU to back-to-back national runners-up in the NCAA Division II Tournament in 1996 and 1997.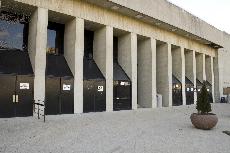 Over the last 36 years Regents Hall has helped make more than a few memories on the court. But the Northern Kentucky University Women and Men's Basketball teams made their last memories there as they played Indianapolis Feb. 16.
With 3:56 left in the second half of the women's game, the scoreboard and front lobby lost power, with NKU leading at 60-57.
The Norse had to come from behind as NKU was trailing by as much as 10 points in the early stages after halftime.
Junior guard Danyelle Echoles put the Norse over the Greyhounds with a 3-pointer at the 4:17 mark to break a 57-57 tie, jumpstarting NKU to a 68-60 win over Indianapolis.
The win by NKU (18-5, 11-4 in the Great Lakes Valley Conference) lands them in first place of the GLVC East Division, just one game over the Greyhounds (18-5, 10-5 GLVC).
"It was great winning the last home game," senior center Angela Healy said. "It's always a goal to win at home and because it was retro day and senior day, it made it even more special."
For seniors Nicole Chiodi and Healy, the win put a final stamp on their home years playing for the Norse.
"I feel like Nicole (Chiodi) and I are the leaders on the team, but without everyone else we definitely wouldn't be where we are," Healy said. "We are a team from start to finish. Hopefully, we keep on improving and keep the momentum into the tournament."
NKU honored the first women's team from the 1974-75 squad, which included head coach Nancy Winstel.
"I felt honored to be recognized with, and meet, the first women's basketball team at NKU," Healy said. "What a great history NKU Women's Basketball has and it's an honor to be a part of it."
Junior guard Jessie Slack, who won the game at Indianapolis with a last-second 3-pointer, led the Norse with 19 points.
Chiodi added 16, while Echoles finished with 12. Healy scored eight points with seven rebounds in the game while playing the final minutes of the game with four fouls.
"To be honest, I've played with four fouls a lot," Healy said. "I really wanted to finish out this game, so I just had to play smarter. I was focused on still playing my game."
NKU has had a wave of changes between games, as the Norse went from a game where they outscored St. Joseph's 69-39 to playing catch-up against the Greyhounds.
The Norse could host a first-round game of the GLVC Tournament on March 4 if they can finish in first or second place in the GLVC East.
On the men's side of the action, the Northern Kentucky University Men's Basketball team upended the Greyhounds 70-57.
NKU (17-5, 11-4 in the GLVC) honored five seniors for their final home game and final regular season game at Regents Hall, before the move to NKU's new home for basketball The Bank of Kentucky Center in fall 2008.
Seniors Travis Rasso, Vincent Humphrey, Harrison Morton, Anthony Teague and Mark Hawkins finished their home career on a high note.
Also, on the bench for the final home game at Regents Hall were former men's basketball coaches Mote Hils, Mike Beitzel and Ken Shields who led the Norse to NCAA national runner-up in 1996 and 1997, according to NKU Sports Information.
Rasso had 19 points in the game ending a two-game losing streak and beating their GLVC rival Indianapolis for the second time this season.
"Just trying to go out with a bang," Rasso told NKU Sports Information. "I love playing here. It's a great atmosphere. I'm going to miss it. I just wanted to leave a mark on the last game here."
Morton contributed 10 points for the Norse and had seven rebounds.
Freshman guard Dennis Gagai scored 12 points in the game as NKU clinched a spot in next month's GLVC Tournament.
The Norse started the game with a 14-1 run becuase Indianapolis didn't hit a field goal until the 10:15 mark in the first half.
The Greyhounds never led in the game as the Norse topped out with a 24-point lead over Indianapolis.
NKU is currently tied with Lwis for second in the GLVC East Division. Lewis upset No. 22 Kentucky Wesleyan 58-55, Feb. 16.
The Norse will play Kentucky Wesleyan Feb. 21 in Owensboro, Ky. NKU defeated the Panthers 69-62, Jan. 19 at Regents Hall.
For video coverage of this past week in games, visit: http://youtube.com/watch?v=uevlEkNNUaA