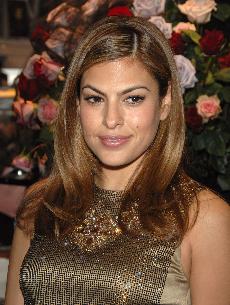 AP
In 2007, we found out that the famous N'Sync cutie we all crushed over, Lance Bass, didn't really enjoy the screaming girls as much as he enjoyed the boys calling his name, if you know what I mean.
Since the pop star's coming out, he has been spotted dating his hairstylist, Ben Thigpen. Just like any relationship (gay, straight or whatever you're into), the stuff hit the fan when Lance reportedly locked lips with another man while he and Thigpen were vacationing in Miami Beach. The blonde bombshell seems to be crushed by the whole incident and has been blowing up Thigpen's phone with apologies ever since. Friends of the two aren't worried, and believe they'll kiss and make up soon. Lance better have some extraordinary Valentine's Day events planned if he plans to win Ben's heart back.
Eva Mendes is thought to be one of Hollywood's most elegant, poised and talented actresses. That might be why it was shocking to hear she had checked herself into rehab at the Cirque Lodge in Utah last week for "personal reasons." The Cirque Lodge just happens to be the same place that Lindsey Lohan recently 'graduated' from.
A report from Entertainment Tonight mentioned that Mendes was seeking treatment for a cocaine addiction that was fueled by Hollywood's obsession with skinny. Although the actress never seemed like the typical drug addict, the drug use was a problem.
It has just been confirmed that Kirsten Dunst has also checked herself into the Cirque Lodge. The reasons for the treatment are unknown as of now, but starmagazine.com reported the actress broke down in tears as she checked into the rehab facility.
Quotes of the Week:
"I've got all this pressure to keep trim as Sporty Spice – I used to drink lager and blackcurrant, but I had to stop because I was getting a beer gut. I could have ended up being Fat Old Lazy Spice."
–Mel Chisholm (sporty spice) on the pressures of being a Spice Girl.
"Fiction writing is great. You can make up almost anything."
— Ivana Trump on finishing her first novel.