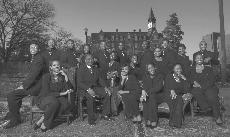 The Fisk Jubilee singers from Fisk University entertained students with their Negro spirituals Feb. 11 in Greaves Hall.
The Office of African American Student Affairs and Ethnic Services sponsored the concert, which is one of many performances that will be celebrated by the organizations during Black History month.
Many students attended the event for a class, as well as for their interest in the unique choir that has been popular for centuries.
"I loved it," said Shauna Cowherd, a junior theatre major who went for one of her classes. But added that she "wanted to see it anyways."
The Jubilee singers performed mostly Christian inspired songs such as "I Thank you Jesus" and "Lord, I Can't Turn Back" and kept true to the original style of Negro spirituals. With the traditional music and professional attire, students showed their appreciation for the choir with a standing ovation.
Currently, the a cappella ensemble has 18 members, and including all different vocal ranges.
The singers travel around the world sharing their vocal talents and singing the Negro spirituals that once filled the cotton fields of the South.
The gospel choir from Nashville, TN, has a tradition dating back to 1871. Originally, the Fisk Jubilee singers entertained kings and queens in Europe with their slave songs to raise money for their school.
"At a time when most black music was being performed by white minstrel musicians in blackface and vulgar caricature, a small group of exceptionally well-trained and talented black singers at Fisk University in Nashville achieved world-wide renown for their stirring and very professional performance of traditional black spirituals," said Ben Austin, an associate professor at Middle Tennessee State University, in an article she wrote for mtsu.edu.
When the choir was first put together, it had been the first time the public had heard the slave songs that were generally kept in the fields. Today The Fisk Jubilee singers are well recognized around the world.
The Fisk Jubilee Singers were inducted in the Gospel Music Hall of Fame in 2000.
"We stand on the shoulders of the original Jubilee singers, continuing their legacy, as we sing Negro spirituals," according to their site, fiskjubileesingers.org.
A performance schedule, contact information and a brief description of the members can also be found on the Web site for those interested in learning more about the gospel choir that has been entertaining for more than a century.