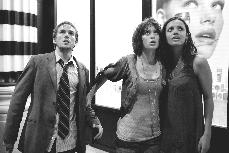 Associated Press
Break out the Pepto-Bismol; this movie will have your stomach in knots.
"Cloverfield," the most talked about movie so far this year, is best described as a cross between "The Blair Witch Project" and the "The Mist." A view from a very shaky camera is your only outlook into the lives of five friends. You might want to refrain from that large popcorn and soda you religiously purchase before every show.
Cloverfield is one of the shortest horror movies I have ever seen at only an hour and 15 minutes. Audience members were left in a purgatory state, not sure if they like it or not, with dozens of questions unanswered — if they weren't clever enough to uncover all the hidden clues.
First impressions are important and that holds true even with movies. The first 15 minutes of "Cloverfield" were slow and nauseating, as the home-video camera was thrown around a going-away party for the main character. However, as soon as the creature hit the city, the setting turns from a snore-fest to an action-packed comedy.
The plot chronicles events between two brothers, the women they love and friend "Hud" (TJ Miller), who also happens to be the cameraman. The storyline was intentionally kept secret from the public until it hit theaters, which might be the reason for its record-breaking opening weekend of $41 million. But if you expected a different kind of scary movie, you will surely be disappointed.
"Cloverfield" kept true to the stereotypical horror flick. The creature might give you a nightmare, the boy rescues the girl, and there are plenty of blood and guts to go around. One unique character who really improved the film is "Hud," aka best friend of the main character. He made the scariest situations humorous. Whether he was being attacked by "smaller and also terrible things" or running through bug-like infested subways, the audience always seemed to be cringing and laughing at the same time.
"Cloverfield" is the type of movie that you either love or you hate. I say, don't waste your money. This $30 million film played like a videotape found on the ground and popped in a VCR, containing a giant, unrealistic creature attacking Manhattan but no explanation of where it came from. For me, this movie was too frustrating to watch again.
However, if your ideal movie experience is watching a Jurassic monster attack Manhattan, and a man heroically venturing into a disaster zone of unexplained creatures, then take a gamble. But beware! Between the shaky camera and the reincarnation of the "Blair Witch Project" snot scene, you might want to bring a get-sick bag just in case.