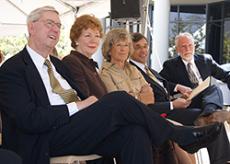 April Wright
Members of the community gathered outside Norse Commons April 23 to celebrate the renaming of the residential village and honor a former Northern Kentucky University president.
Leon E. Boothe, president of NKU from 1983-1996, was honored for spurring the growth of the campus community. Boothe led efforts to more than double NKU's residence hall capacity from less than 400 students to more than 1,000 students. Current President James Votruba said the expansion made NKU a more international university.
"His vision has impacted thousands of students who have chosen to make on-campus housing part of their collegiate experience at NKU," said Matt Brown, director of University Housing.
Several people from the NKU community, including Votruba, Vice President of Student Affairs Mark Shanley, former President of NKU's Residential Housing Association Lindsay Hunter and SGA President Josh Ruth spoke at the ceremony to honor and thank Booth for his contribution to the expansion of the university,
"Every piece of research on student success reinforces the importance of connecting students and engaging them with the university community," Votruba said. "No university president of this campus has effectively reflected more fully or deeply that commitment to student engagement than Leon Boothe."