Learning Assistance Program expands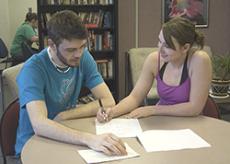 April Wright
Northern Kentucky University's Learning Assistance Program has recently made internal organizational changes. It is now a part of the Associate Provost for Student Success Office and have added the Developmental Mathematics Program to its repertoire.
Diane Williams, the director of the Learning Assistance Programs, said that Academic Advising Resource Center and The Office of First Year Programs have moved from the vice provost's office and are now under Dr. Dennis Weatherby, the associate provost for student success.
"That seems to be a good move and appropriate because his office is concerned with student success and retention and that's a primary focus for First Year Programs," Williams said. "As far as things that have changed, we're looking at it as a group of programs that have coordinators for each of them."
Williams said they're looking at those as a conglomeration of programs that are better coordinated and have a primary goal of helping students.
"As part of the Math Center, I've always worked very closely with the developmental math program and I've known Diane (Williams) and worked with her since I was a student here, so it has been a smooth transition," said Beth Wells, coordinator for the Math Center.
Now that the Math Center and Developmental Math Program are housed together, it will now be easier to refer students back and forth between the two services, Williams said. She also said the LAP is looking to move the Developmental Math Program to Founders Hall, which is where the Math and Writing centers are located.
The Learning Assistance Programs, which are free to NKU students, offer academic tutoring, supplemental instruction and structured learning assistance for select classes, the Math and Writing centers.