Group holds event to showcase healthy food choices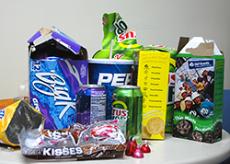 Peaches with water or with syrup? Fresh or frozen fruits? Fast food or home cooked?
The Northern Kentucky University Wellness group addressed these and several other questions during the Heart Health Month wrap up Feb. 26.
Display tables featured a variety of common grocery store products and provided helpful information, healthy recipes, coupons and taste samplings.
"It's like going through the supermarket to determine the healthiest choices," said Wellness Coordinator, Bunny Peters. "Each week concentrates on a different grocery aisle."
The Supermarket Safari features different products every Monday. The first week featured heart-healthy foods including fish oil. The remaining schedule of featured products is as follows:
March 12- grains, cereals and bread
March 19- produce
March 26- dairy
April 2- meats
"During the week featuring grains, cereals and bread you can determine what type of bread is best; you can taste-test them," Peters said.
Janine Faber, Meijer Dietian and Healthy Living Advisor for Ohio and Kentucky, answered questions concerning nutrition in the University Center and she offered advice on how to buy healthy foods without spending much money.
"You can get different forms besides fresh, such as pears in water instead of the syrup with added calories and sugar. Canned or frozen fruits and vegetables last longer and you can portion them out if you want. They're just as healthy as fresh," Faber said.
According to the Centers for Disease Control and Prevention, the leading cause of death in Kentucky is heart disease, with the major contribution to that being poor nutrition.
"Most college students probably eat less healthy than they should. Convenience food is so much easier with the hectic pace college students keep. When something has to give, it is sometimes much less stressful to opt for fast food rather than spend the time it takes to plan a well-balanced meal," said Deborah Dempsey, Registered Nurse with a bachelor's and master's degree of Science, who works in the Department of Biological Sciences.
Adding to that, she listed diabetes, stroke and heart attack as results that can occur later in life due to unhealthy eating habits.
Aloisia Manda, a freshman public relations major who lives on campus, said she considers her eating habits "not very healthy" because of a full schedule with school and work schedule, little time to eat healthy choices and lack of choices in the cafeteria located in housing and the University Center.
Another student who lives on campus, senior marketing major Naoko Ohkur, says she tries to eat healthy by not going to the cafeteria, which she says has too many cheesy and oily foods. Instead, she opts to cook food herself in order to eat healthy.
"I think students in general tend to eat unhealthy snacks," Ohkur said.
William Fisher, an undeclared sophomore in the NKU's business school, agreed the meals offered on campus could be healthier, but said he tries to eat a balanced diet.
"I get my serving of fruits and vegetable at least four out of the seven days a week," Fisher said.
In addition to information on health foods, advice from dietetics and taste samplings, contests will take place each week where someone can sign up for a drawing to win a prize. The prize for the first week was a Heart-Healthy basket from Meijer with items such as a canister of almonds, olive and canola oils, and a heart-healthy cookbook.