Comedy troupe features alumni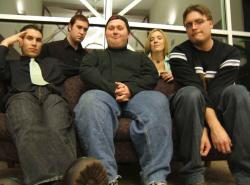 Dan Cooper, Scott Spaulding, Richard Alcorn, Erin Schauer and Josh Flowers make up the comedy troupe The Damn Handsome Men.
Anyone who makes road trips to Chicago knows that the Midwestern city is a capital for comedy troupes.
That isn't the case here in Greater Cincinnati.
Aware that this city isn't a comedy flourisher like Chi-Town – The Damn Handsome Men said they are looking to change the face of the local comedy scene. The five members – Richard Alcorn, Josh Flowers, Dan Cooper, Erin Schauer (the sole woman) and Scott Spaulding – have performed sketches for almost and a year and a half.
In order to express themselves collectively, the sketch comedy troupe sat down for a Q-and-A session to give readers the lowdown.
So, who went to Northern Kentucky University? Two of you graduated, and two of you quit, right?
Josh Flowers: Yeah, after like 130 hours I was like "I'm done." Maybe I did graduate – I didn't really check.
Richard Alcorn: Mine was much less than that. I was missing 7 a.m. classes because I was doing stand-up at night and not being able to make it in.
Erin Schauer: (Graduated with) radio and television with a minor in theater
Scott Spaulding: (Graduated with) computer science with a minor in math.
Who founded Damn Handsome Men?
RA: I actually had the name for a long time