Movie puts spin on dated classic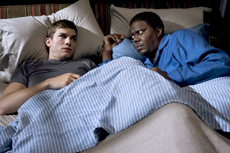 Ashton Kutcher (L) and Bernie Mac star in Columbia Pictures/Regency Enterprises? new comedy "Guess Who."
"Guess Who," starring Ashton Kutcher and Bernie Mac, is a romantic comedy with ridiculous wisecracks and scenes.
"Guess Who" derives from the 1967 "Guess Who's Coming to Dinner?" which starred Katherine Hepburn and Sidney Poitier.
Much like "Meet the Parents," a young man wants to marry his girlfriend but has to deal with her father first.
To raise the stakes higher than "Meet the Parents," the couple (Kutcher and Zo