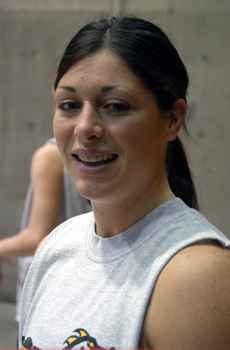 Blue
The 2004-05 Northern Kentucky University women's basketball team enters the season ranked fourth in the Great Lakes Valley Conference preseason poll. The race for the conference title should be a close one, with four teams receiving first-place votes in the poll.
The Norse will have a great deal of experience, returning four seniors: Elizabeth Burrows, Connie Myers, Nikki Perkins and Sarah Woods.
Burrows is returning to start at guard. She led the team with 120 assists and 40 steals last season.
Myers returns at forward after leading the team in scoring last season. She is also the returning leading rebounder and finished second on the team in steals.
Perkins returns at the guard. Perkins averaged 9.6 points last season and finished second on the team in assists. She is also one of the team's best outside shooters.
Sophomore center Karen Graham returns after starting 12 games last season and leading the team in blocked shots, and averaging 3.8 rebounds.
Also returning is sophomore guard/forward Karyn Creager, who shot 40 percent from three-point range last season.
NKU signed a freshman class consisting of guard Keri Finnell from Purcell Marian, guard Nicole Chiodi from Newport Central Catholic and center Angela Healy from Highlands.
Coach Nancy Winstel returns for her 22nd season as head coach for the Norse. She owns a 456-151 career record and has guided NKU to six consecutive NCCA Tournaments.
The Norse finished 17-11 overall (12-8 GLVC) last season and finished sixth in the conference.