Volleyball team keeps streak alive with win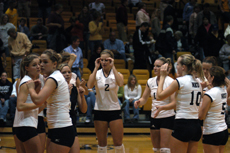 Blue
RENSSELAER, Ind. – The late-season run continued for Northern Kentucky University on Saturday, and the Norse are suddenly one of the hottest volleyball teams in the Great Lakes Region.
The Norse won their ninth straight match with a four-game victory over Saint Joseph's College. NKU won by scores of 30-23, 30-21, 27-30, 30-23.
Kristin Koralewski finished with 22 kills, 24 digs and a .392 hitting percentage for NKU, which improved to 19-8 overall, 12-3 in the Great Lakes Valley Conference. Lynne Fischesser added 11 kills and 17 digs as the Norse coasted to the important road victory.
Setter Andrea Lanham recorded 54 assists, five kills and eight digs for NKU. Liz Holmes added nine kills and 15 digs, while teammate Tristen Dye added 10 kills and 12 digs.
Amber Timmons tallied 17 digs and also added two kills for NKU, which owns a 26-5 lead in the all-time series with Saint Joseph's.
Koralewski now has 499 kills this season and 1,425 during her career at NKU. The senior All-American ranks sixth on the NKU all-time list in that category, and she needs 102 kills to break the Norse's single-season record of 600 (set by Bethany Gastright in 2000).
NKU will play a road match at Bellarmine University at 7 p.m. next Friday, and close out the regular season at 2 p.m. Saturday with a non-conference home match against the University of Charleston.
*Article by Sports Information