Women's tennis sees two home wins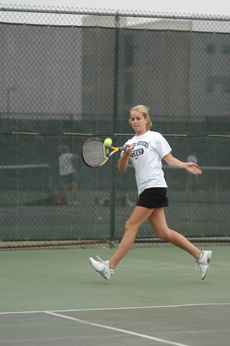 Blue
HIGHLAND HEIGHTS, Ky. – The Northern Kentucky University women's tennis team posted a 7-2 win over Bellarmine University at the NKU tennis courts on Tuesday.
The Norse won two of the three contests in doubles competition.
NKU wrapped up the match by taking five wins in singles play.
Kari Goodrich and Jessica Smith teamed up for an 8-2 victory in No. 2 doubles, while Clara Dorado and Courtney Myers combined for an 8-6 win in No. 3 doubles.
Myers later claimed a 1-6, 6-1, 6-2 victory at No. 6 singles over Jade Best.
Lindsay England, Goodrich, Dorado and Smith also collected wins in singles play as NKU improved to 5-2 overall, 5-2 in the Great Lakes Valley Conference.
The team posted a 9-0 win over Saint Joseph's College Saturday.
Laura Leutzinger picked up a win at No. 1 singles with a 6-1, 6-1 decision over Missy Bachani. Leutzinger also teamed with Lindsay England in No. 1 doubles for an 8-1 victory over Bachani and Holly Berner.
England added a 6-2, 6-2 win over Christie Van Eyk at No. 2 singles as NKU improved to 6-3 overall, 6-3 in the Great Lakes Valley Conference.
NKU will play at the GLVC Tournament next Friday and Saturday at Indianapolis, Ind.
The Norse are the defending champions of that event, and NKU has captured the GLVC Tournament title five times during the past six years.
*Article by Sports Information