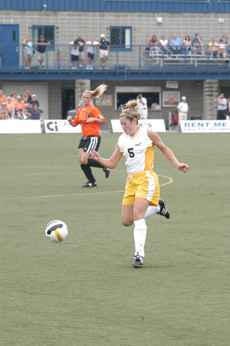 Blue
In this week's Hot Seat, John interviews junior soccer player Kristen Votapek. Votapek transferred to NKU from Mount Vernon Nazarene and currently leads the team in total points.
John Rasp: How did you end up at NKU?
Kristen Votapek: I wanted to come closer to home so my parents could watch me play. I also wanted more competition than NAIA where I played the two previous years.
JR: Do you have any superstitions?
KV: I have a lot actually. I listen to the same CD before every game with the same songs in the same order. I always pray before the game. Also, me and Amy Martini always cross arms and spit before games.
JR: What CD do you listen to?
KV: It's Shedaisy (country). I started it my freshman year. I really didn't pick that but it kind of grew on me. It's not really pump up music.
JR: Last year, NKU had two games that came down to penalty kicks. If one came down to them this year, do you want to take one?
KV: Yeah I would like to take one. When I was in high school, I also had to take one.
JR: Does talking trash occur between soccer players?
KV: Yeah, I guess when it gets rough it does happen. I try to keep my composure. I'd much rather score and show them that we are better than to talk trash.
JR: What is the hardest thing about being a transfer?
KV: Probably that I'm a junior instead of being a freshman. They see me a new player and not someone that they can look up to as much as if I were a returning junior.
JR: When you are close to receiving a card, what kind of things do you like to say to the referee to prevent them from giving you one?
KV: When I received mine, I went to the referee and showed him how the girl was pulling my arm on his arm. I guess I could have gotten a red card for touching the referee, but I did get the yellow. The main thing we try to do is to blame it on the other player. I wasn't starting it, but retaliating when I got my card.
JR: What kind of personal goals that you've set for this year?
KV: I just want to score, and I haven't really scored that much yet. I feel like my job is done on the field when I score.
JR: If you weren't playing soccer, what sport would you play?
KV: Track.