Blue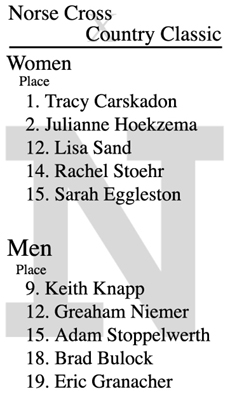 The Northern Kentucky University Cross Country teams placed well this weekend in the inaugural Norse Cross Country Classic at A.J. Jolly Park.
Tracy Carskadon won the women's five-kilometer race in a time of 19:26.
Norse runner Julianne Hoekzema finished 10 seconds behind Carskadon to take second place.
The women's team won the overall title with a score of 44 points. GLVC foe Indianapolis finished second with a score of 45.
In the men's eight-kilometer race, Norse runner Keith Knapp finished ninth with a time of 26:55. He was the best finisher for the Norse.
Greaham Niemer finished 12th overall as he crossed the finish line in 27:13.
Lewis University won the men's team title with a score of 24. Lewis had five runners finish within the top ten. Five Norse runners finished in the top twenty.
The Norse finished second overall, with a score of 66.
The Norse travel to Greensboro, N. C. on Sept. 25 for their next race.