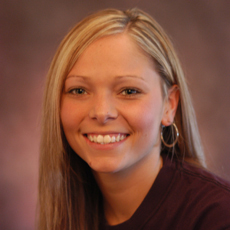 Blue
This week John sits down with Amber Timmons, a senior defensive specialist on the volleyball team.
John Rasp: What kind of team goals did you set this year? Amber Timmons: We want to win our conference championship and we also said that we'd like to go to the final four.
JR: Who would you say is the biggest trash talker on the team? AT: Maggie (Pugh) and Kristin (Koralewski). Maggie likes to say funny comments about the other team during volleyball matches.
JR: Which player is most likely to get yellow-carded in a game? AT: It could be anybody. I would probably say Kristin because as team captain she is the only one who can speak up to the referee.
JR: How does this year's team compare to last years team? AT: In last years' team, we could always count on Cammi Welter to step up and be vocal. On last years' team, we were all comfortable playing together. Now there are new people on the court so we are still getting used to each other. We are probably a faster team than last year, though. We have just as much capability to be as good or better than last years' team. We have the players to do it: We just have to connect as a team.
JR: Fact of Fiction: You are a better server than head coach Carlos Chia. AT: As far as consistency goes, he is probably better. When it comes to serving an ace, I'm probably better.
JR: Which teams do you most want to beat this year? AT: In conference: Indianapolis and Southern Indiana. In terms of in our region, probably Grand Valley. And I'd like to play Northern Michigan again.
JR: What would students be most surprised about if they saw an NKU volleyball game? AT: I think our fast offense and how hard some of our girls can put the ball away would surprise some people.
JR: What kind of duties do freshmen volleyball players have? AT: Sometimes they have to carry the video camera for games. When we were freshmen we had to setup the net and stuff like that. We're pretty nice to our freshmen.