Norse volleyball gets high marks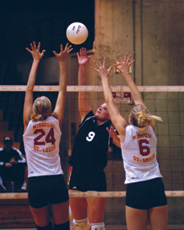 Blue
The Northern Kentucky University volleyball team was recently named a recipient of the American Volleyball Coaches Association's (AVCA) team academic award. They were one of 31 NCAA Division II members that were awarded this honor.
Teams that receive the award range from high school boy's and girl's teams to NCAA Division I teams.
"This is a great achievement for our program," said NKU head
volleyball coach Carlos Chia. "We try as coaches to help our athletes to get a good education and an award like this is a great achievement."
In addition to receiving the academic team award for the 2003 season, the Norse volleyball team also received the award for the 2002 season.
The Great Lakes Valley Conference was well represented among NCAA Division II teams in this award category. NKU's conference opponents Lewis University and Bellarmine University were honored with the AVCA award also.
"This award gives a great meaning to the word student athlete. It really shows that this team has some great students in addition to having some good athletes," said Coach Chia.
"The main goal in college athletics is to recruit athletes not just in the sport of volleyball, but in all sports, to be good students in the classroom. We don't recruit them to be professional athletes."
NKU also placed five players on the 2003-2004 GLVC All-Academic Team: Marcela Cunha, Kristin Koralewski, Nicole Salisbury, Amber Timmons and Cammi Welter. Koraleski was also named the GLVC Scholar Athlete of the Year in volleyball.
The Norse Volleyball team starts the 2004 season this weekend in Pensacola, Fla. The tournament takes place at the University of West Florida.
During the two-day tournament, NKU will face the University of West Florida, the University of Montevallo (Ala.), Mesa State College (Colo.), and the University of West Alabama.