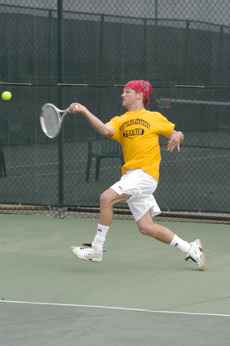 Tim Downer
The NKU men's tennis team ended its GLVC play with two strong wins over Southern Indiana and Bellarmine this weekend.
The victories cap off a second consecutive season in which the Norse finished undefeated in regular season conference play. NKU now stands at 13-3 overall, and 8-0 versus conference opponents.
This was also the first season that the men's tennis team received a national ranking. They are ranked number 37.
Head Coach Geoff Crawford said his team isn't satisfied with its strong record and high ranking, however.
"We want to repeat and win the conference tournament," Crawford said. "Then hopefully we can carry that over to the NCAA tournament and see where it goes from there."
The GLVC tournament starts this week in Indianapolis, and the NCAA tournament will follow. The NCAA tournament is hosted by the teams that finish first and second in each region. As it stands now, Northwood or Ferris St. would host NKU.
Friday's match versus Southern Indiana was key for the Norse in their push for a regular season conference title. NKU entered the match ranked number one in the conference, with Southern Indiana ranked number two.
NKU had a strong showing, defeating the Eagles 7-2.
"This is some of our toughest competition," Crawford said before the match Friday. "It's very important we be able to come out on top to close out the conference matches."
In Sunday's match the Norse dominated Bellarmine defeating them by a score of 9-0.
Amine Benjelloun, Marek Pawelec and Nick Herzog set the tone early for the Norse.
Benjelloun defeated Phillip Merill 6-0, 6-1, while Herzog and Pawelec both blanked their opponents 6-0, 6-0.
In doubles play, Nick Herzog and Oliver Marinkovic dominated Bellarmine's Will Logan and Randy Pike, winning 8-1.
NKU takes the number eight seed on Friday at 9 a.m.. The tournament will conclude on Saturday.