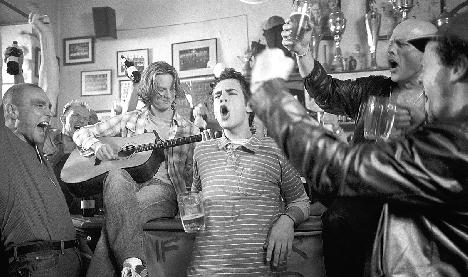 Dream Works Pictures
In case your life isn't filled with enough naked people and dirty jokes, "Eurotrip" wants to to fullfill your needs.
Directed by Jeff Schafer and written by Alec Berg and David Mandel (three ex-"Seinfeld" writers), "Eurotrip" exposes the adventures of four friends, fresh out of high school, as they trek around Europe.
The main character Scott (Scott Mechlowicz) and his sidekick Cooper (Jacob Pitts) travel over the Atlantic Ocean in the hopes of finding Scott's attractive German pen pal Mieke (Jessica Boehrs).
Scott, thinking Mieke is pronounced "Mike," sends her a drunken E-mail telling her to get lost after she tells Scott she wants to come to America to visit.
After discovering it's a female name pronounced "Me-kah," Scott decides to locate Mieke to mend the relationship. Cooper tags along to indulge in "freaky European sex."
Once in Europe, drunken, sex-filled, slapstick escapades ensue. The buddies team up with their twin pals Jenny (Michelle Trachtenberg from "Buffy the Vampire Slayer") and Jamie (Travis Wester) to help guide them around the continent.
The group runs into its fair share of oddballs in each town they visit, including football hooligans (led by Vinnie Jones from "Snatch"), a flamboyant Italian (with an excellent performance by Fred Armisen of SNL fame), and a Dutch dominatrix (Lucy Lawless).
The male audience members may drool over the frequent female nudity, but the women might not get much enjoyment from the full frontal nudity of older men frolicking on a nude beach.
The movie was advertised as being "From the producers of 'Road Trip' and 'Old School.'
Whenever I hear ads proclaiming who the producers are, I become a little skeptical. It makes me wonder why the best thing they could say about the movie was who produced it.
The same people that produced "Road Trip" and "Old School" created this movie, yet it hardly encompasses the genius hilarity of either film.
With jokes about incest, bestiality, and S'M, I doubt this is a movie to watch with parents.
With mediocre writing and a cheesy ending, "Euro Trip" is tasteless toilet humor good for only a couple of laughs.