Indiana outplays Norse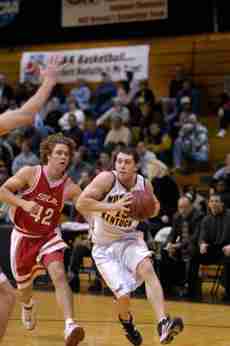 Tim Downer
INDIANAPOLIS – David Logan and Jason Wright combined for 45 points and 14 rebounds Saturday night as the University of Indianapolis posted a 93-81 win over NKU
Logan tallied 21 of his 23 points in the first half Saturday, as Indianapolis built a 42-35 lead. The Greyhounds never trailed in the second half and led by as many as 16 points.
Wright, a senior center playing in his final home game for Indianapolis, scored 16 of his 22 points in the second half. He was unstoppable inside, grabbing a team-leading nine rebounds, with five offensive boards.
Rodney Rollins added 11 of his 15 points in the second half, and he also dished out five assists. Indianapolis shot 61.5 percent from the field in the second half and finished at 56.9 percent for the game.
Jesse Rupe led NKU with 19 points and 11 rebounds, while teammate Steve Purdon added 16 points. Kevin Reinhardt finished with 12 points, and Mike Kelsey and Pat Cary each scored 10 points.
NKU shot 46.9 percent from the field, but the Norse made just 13 of 23 free throws.
Indianapolis improved to 19-6 overall, 12-6 in the Great Lakes Valley Conference. NKU dropped to 15-13 overall, 8-10 in the GLVC.
The Norse play at Bellarmine University at 8 p.m. Thursday night. NKU closes out the regular season next Saturday at Kentucky Wesleyan College.
NKU is in seventh place in the GLVC standings entering the final weekend of play. The Norse have clinched a spot in the upcoming GLVC Tournament, which will be played March 5-7 at Roberts Stadium in Evansville, Ind.
*Article by Sports Information