Men lose two straight, can't shake conference opponents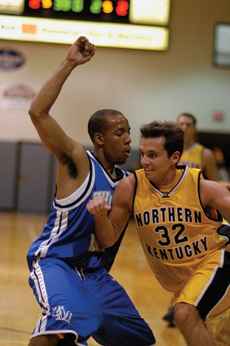 Tim Downer
EDWARDSVILLE, Ill. – Ron Jones scored 15 of his 21 points in the second half Saturday afternoon to lead Southern Illinois University at Edwardsville to an 81-75 victory over Northern Kentucky University at the Vadalabene Center.
Calvin Sykes added 18 points, seven rebounds and dished out six assists for the Cougars, who improved to 9-7 overall, 5-5 in the Great Lakes Valley Conference.
Before Saturday, NKU owned 15 straight wins against SIUE.
NKU had not lost to SIUE since the 1991-92 season, when the Cougars posted a 97-90 win against the Norse in Edwardsville, Ill.
Since joining the GLVC, SIUE had gone 0-14 against NKU prior to Saturday's victory.
SIUE shot 50 percent from the field in the first half on 13-of-26 shooting to go into the break with a 38-25 advantage. NKU was held to 27.6 percent shooting in the first half.
Jesse Rupe scored 11 points before before the break for the Norse, who trailed by 17 points in the first half.
"Jesse battled hard and just missed a double-double," said NKU Head Coach Ken Shields.
SIUE once again increased its lead to 17 points (63-46) with 6:42 remaining in the game, on two free throws by Heimos.
"We got behind, but we battled back in the second half," Shields said.
The Norse responded with a 26-12 run, capped by Jordan Stowers' three-point basket with 22 seconds remaining to cut the lead to 75-73.
The Norse spurt was keyed by Steve Purdon, who scored all of his 16 points in the second half.
"Steve Purdon really stepped up and played courageously in the second half," Shields said.
Jones sealed the game for SIUE by hitting six straight free throws in the final 20 seconds. He finished the game with 21 points and made all 10 of his free throw attempts.
Rupe led NKU (11-8 overall, 4-5 GLVC) with 25 points and nine rebounds.
Mike Kelsey scored 10 points for the Norse, and he now has 997 career points. Pat Cary added eight points and six rebounds for NKU.
The Norse return to Regents Hall for a game against the University of Wisconsin-Parkside at 7:45 p.m. on Thursday.