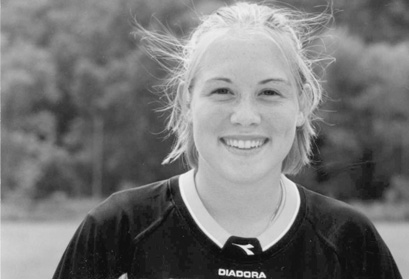 Tim Downer
This week Elias Hajjar sits down with women's soccer player Bobbi Meister.
Ellias Hajjar: Is this the year you all will bring the national championship to NKU?
Bobbi Meister: The women's soccer team has been to the final four several times. We know what to expect and we are expecting to succeed.
EH: I noticed you changed your jersey number from 20 to 10. Why?
BM: I have been the number 10 all my life in soccer. As a freshmen another girl had it so I had to wait until she graduated to get my favorite number back.
EH: Would you rather be the Division II player of the year or a national champion? BM: It says a lot about who you are if you were Division II player of the year. However you are the only one getting recognized. National champions would be great because then the whole team is noticed for their hard work. This is a team sport.
EH: If you could be any athlete in the world who would it be and why?
BM: I would be Mia Hamm just because millions of young soccer players look up to her and she is really successful in this sport.
EH: Did you see the movie Bend it like Beckham? I think the girl was overrated.
BM: I haven't seen that movie yet, so I wouldn't know.
EH: If you win the national championship, would you cry like tennis star Andy Roddick did after he won the US Open?
BM: It's hard to tell someone how you would feel. I most likely would cry because we have worked so hard and dedicated so much to this program and we would've reached a goal we set at the start of the season.