12th-ranked Norse hand SIUE its seventh loss of the season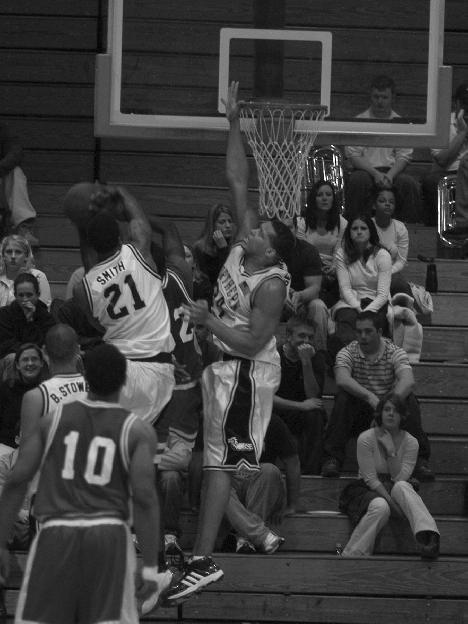 Tim Downer
Quentin Smith scored a career-high 19 points and grabbed 10 rebounds Saturday as 12th-ranked Northern Kentucky University rallied for a 77-63 win over Southern Illinois University at Edwardsville in Regents Hall.
Mike Kelsey added 15 points and three assists as NKU improved to 13-2 overall, 7-1 in the Great Lakes Valley Conference. The Norse are in sole possession of first place in the GLVC.
SIUE (6-7 overall, 2-5 GLVC) held a 38-32 lead early in the second half, but NKU used a 13-3 run to take a 45-41 advantage. Bobby St-Preux and Chris Seabrooks each scored two baskets to key the Norse run.
St-Preux's three-pointer gave NKU a 58-51 lead with 7:39 remaining, and the Norse sealed the victory by making nine free throws in the final 3:30. Smith, a graduate of Mount Healthy High School in Cincinnati, hit six straight free throws late in the game as NKU held off the Cougars.
St-Preux finished with 13 points, eight rebounds and three blocked shots, while Brenden Stowers added 14 points. NKU held SIUE to 43.6 percent shooting from the field and won the rebounding battle by a 37-25 margin.
Seabrooks added eight points and five rebounds for NKU, which has won 17 consecutive games in Regents Hall.
NKU has beaten SIUE 14 consecutive times. NKU has not lost to SIUE since the 1991-92 season, when the Cougars posted a 97-90 win against the Norse in Edwardsville, Ill.
NKU will hit the road for a game at the University of Missouri-St. Louis at 8:45 p.m. this Thursday.
Article by Sports Information