BMX with an adult twist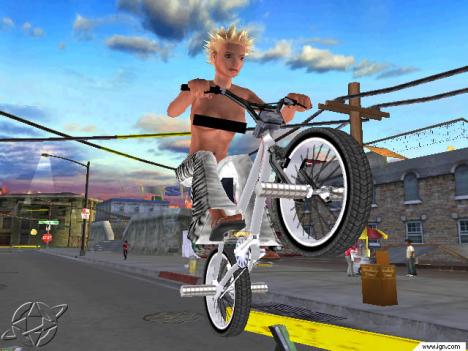 Photo contributed
With all the hype in the media and the gaming community surrounding BMX XXX, I was expecting the best thing since sliced bread. However, I returned the game to my local video store feeling a little unfulfilled, yet still generally satisfied.
Released by Acclaim, BMX XXX represents the first adult-themed extreme game. While the game deserves its Mature rating, it is far from XXX, especially the edited PS2 version that I played. (Note: the Xbox and Gamecube versions do contain nudity). With vulgarity, crude humor, and excellent
BMX game play, this game really works for the target audience, which has to be males between the ages of 18 and 34.
First and foremost, this is a BMX game. With challenge and competition levels, BMX XXX offers a great BMX experience. Aside from the BMX aspect, there is humor and the popular Scores girls, videos of strippers that can be unlocked through the game play. If you are getting this game because you heard it had some crude humor and nudity, then don't because you will be disappointed (there's not much). However, the game does offer a solid BMX experience with a few extras on the side.
In terms of graphics, "BMX XXX" is solid, yet by no means spectacular. While the overall feel is well done, characters are a little too boxy.
In BMX XXX, the game play is excellent. As I haven't played too many BMX games, I was afraid it would be very difficult to pull off some of the upper-level tricks. Yet I found that I was pulling off sweet tricks, like a 720 superman, in no time. Each level provides 20 timed challenges that are both entertaining and addictive. However, the challenges have little or no explanation causing you to take some time to figure out exactly what they want you to do. Aside from the challenges, the game play offers numerous ramps and rails to experience while riding around the level, which itself is untimed.
The audio component of this game is incredible. While it has better than average sound effects, the best sound features are the dialogue and the music. In BMX XXX, the dialogue is pretty vulgar, yet hilarious. Also, the music features some very good rock and hip-hop tracks like "Lap Dance" by N.E.R.D. and "My Friends Over You" by A New Found Glory. While the music is only a small part of the overall game, it easily makes riding around the level more enjoyable.
Overall, "BMX XXX" receives a final score of 8 out of 10.
With all the hype out there surrounding this game, I honestly expected more. However, this game still provides a very worthwhile gaming experience, especially for BMX fans. With just a few minor changes, including better explanation of challenges and improved graphics, this game could have been one of the best on the market.