NKU features a slew of dining options to meet the needs of many unique taste buds. However, it's not always clear what form of payment may be accepted and when your favorite spot will be open. This feature takes a dive into the non-residential dining options. 
One major difference this year? No cash, no problem; all NKU Dining options have gone cashless. 
Derek Roorda, district manager for campus dining service Chartwells, said that around 90% of the campuses Chartwells serves are currently cashless. For NKU, the decision was made in an attempt to cut costs. Eliminating cash means that managers spend less time going to the bank and paying for banking services, Roorda said.
Plus, purchases that are made with the use of an All Card are tax exempt, saving students some extra change. If a customer needs to use cash, the manager said, dining options have the ability to do so.
Now let's explore what you can find on a forage across the Student Union, Steely Library, Health Innovation Center, Natural Science Center and Landrum Hall.
Student Union
The second floor of the Student Union (SU) is your hub for grub. There are the typical college-style chain restaurants, like Steak 'n Shake, QDOBA and Sbarro Pizzeria. 
Steak 'n Shake is known for its classic American burgers and fries, as well as its affordability. A typical meal including a burger, fries and drink will run you about $7. They also stay open later than most options, closing at 6:30 p.m. on every weekday except Fridays. Expect long lines here during lunch rush hour, as this classic is sought after by many students.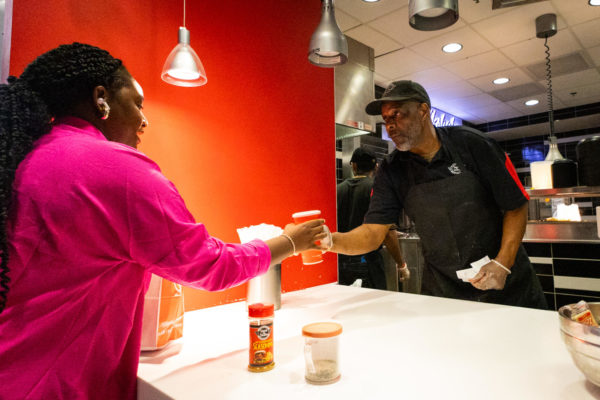 Norse Street Subs and Wild Blue are more fresh options, with Wild Blue offering an array of prepackaged sushi trays, mostly under $10. Student Choice, located right next to Wild Blue, is an alternative that rotates periodically.
Right outside these second-floor restaurants are Create Chop'd & Wrap'd and Marty's Waffles. At Create, you can get made-to-order smoothies, salads, wraps and soup during the cooler months. They also serve breakfast on weekday mornings from 8-10:15 a.m. Marty's Waffles—which made its way to campus last semester and was founded by a former NKU professor—features signature sweet and savory options, perfect for breakfast or in between classes.
All of the aforementioned dives will accept meal swipes, Flex/All Card dollars and regular payment.
Market SU is an underrated on-campus convenience store, which stays open from 7 a.m. until 9 p.m. Monday-Thursday and closes at 3 p.m. on Fridays. Here you can find anything from Lunchables and ramen noodles to Tylenol. A new addition to the Market SU is the use of scan-and-go checkouts, where the machine automatically rings up your items then prompts for payment.
Transaction time is cut down significantly with these scanners, said Roorda. Another goal is to extend the availability of the market. Ideally, the manager said, the market will expand its access to 24 hours, although they are currently facing safety hurdles.
We can't discuss the Student Union without bringing attention to Starbucks. This pumpkin spice-bearing coffee franchise is the only non-residential restaurant you will find open on Sundays from 2-8 p.m., which makes it the perfect quiet spot to finish your procrastinated homework assignments. Remember that Starbucks also won't accept meal swipes, but Flex/All Card dollars, gift cards and of course regular payments are welcome. 
Around campus
Einstein Bros Bagels is found on the third floor lobby of Steely Library. After undergoing renovation last fall, the coffee and bagel shop reopened in spring 2023. Here you can find basics, like flavored bagels and hot coffee, or more complex bites like the Farmhouse (cheesy hashbrown bagel, egg, bacon, ham, cheddar cheese and a gravy shmear) and cold brew shakes. The only complication is that Einstein only accepts meal swipes after 1 p.m., before this time it's strictly Flex/All Card dollars or regular payment.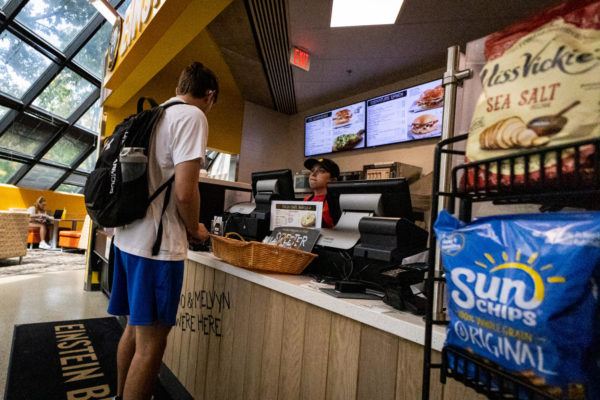 A new-to-you option in the Health Innovation Center is Farmer's Fridge, a robotic vending machine full of fresh options like yogurt, salads and wraps. Salads pop out in a plastic jar, but to be eco-friendly there is a spot dedicated to returning the jars after consumption. Farmer's Fridge accepts credit/debit card and All Card payment. For a more detailed how-to on using this vending machine, keep an eye on our Instagram account.
Between classes you can find a lowkey coffee and snack nook in the Natural Science Center: Darwin's Cafe. Landrum Hall also features a toned-down version of the Market SU, with soups and sandwiches available to grab and go. These two options, similarly to Market SU, do not accept meal swipes.
For more details about NKU Dining, visit the official website here.