Einstein Bros. Bagels closes up shop for the semester
The fan favorite bagel restaurant hopes to reopen in January 2023
November 21, 2022
What once filled Steely Library with the pleasant aroma of crisp, warm bagels and flavorful coffee is now replaced with roped-off demolition.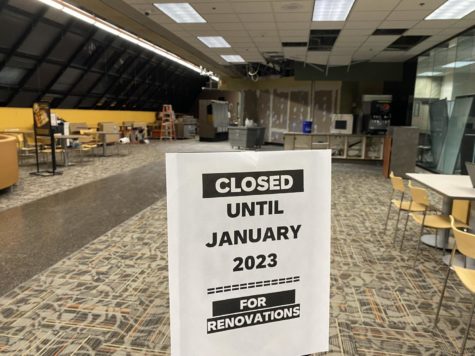 Einstein Bros. Bagels closed its doors for the remainder of the semester on Nov. 18 as the commencement of renovations began on Nov. 21. According to NKU Dining, the restaurant will have a totally new look when it reopens in the spring semester, including an expansion in space, new equipment and new seating. The menu classics will remain the same though.
Molly Goodridge, Chartwells NKU marketing manager, said the previous space was far outdated and no longer best served the NKU campus community. Einstein's opened its doors in Aug. 2012 and has not seen any major renovations since the grand opening. 
Goodridge also provided a projected rendering of what students can expect to see in the spring, which includes an elongated counter that extends along the wall where the previous fountain drink machine could be found. Brighter colors are expected to inhabit the space, with more group seating and space for customers to wait for their food without being on top of dining patrons.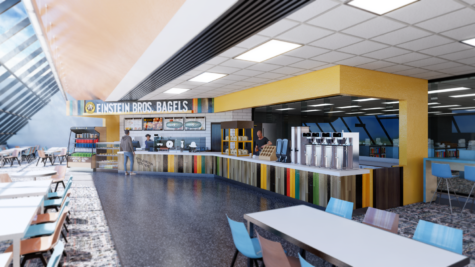 Einstein Bros. Bagels' employees have mixed reviews about the temporary closure of the restaurant. 
Freshman Annabelle said she was glad the on-campus dining option was closing temporarily. She said working in the back of the restaurant was "so gross" and the employees often complained about the overwhelming odors that came from that area. 
"It should have been closed a while ago," Annabelle said. 
Student worker Tatina said that management was concerned about the employees' health and this possibly played a factor into the temporary closure. 
The bagel shop workers were offered another position at an on-campus restaurant, with some going to Starbucks, Landrum Market and other options. Annabelle, however, is declining to take another position and doesn't foresee herself returning to Einstein's.
"I applied for a different job because they pay more and they're more flexible with hours," the freshman said. 
Tatina is choosing to take the opportunity and will be working at Starbucks for the duration of the closure. She has been working at Einstein Bros. for three months now and said she will miss the family of coworkers. While Tatiana hopes to return to Einstein's after its reopening, she fears she won't be able to after her boss informed her she will stay at Starbucks. 
While some will miss the presence of Einstein Bros. Bagels over the next few months, management is hopeful to see it make a grand reopening in Spring 2023.
"With the new space, we aim to offer better service and satisfaction among the campus community," Goodridge said.
NKU Dining plans to update information about the reopening date and Grand Reopening celebration on their website.