Student Research and Creativity Celebration provides a voice for all
The annual Student Research and Creativity celebration will commence its 12th year next week from April 14th -18th as one of the largest student and faculty collaborations on NKU's campus.
Event co-chairman and anthropology professor Dr. Judy Voelker is pleased with the increase that she has seen in participation in the past three years.
"It's such an exciting event," Voelker said.  "And to see all the different disciplines and all of the active research and creative projects going on on this campus, I don't think people have a handle on the breadth of work that's being done by undergraduate students.  It's a terrific way to highlight it, to celebrate it and appreciate it."
According to Voelker, the participation rate has grown about 20 percent every year, so she expects to see more than 600 students and 125 faculty members involved in the celebration this semester.
"We continue to see growth both in the range of projects and both creative, scholarly, and research oriented, as well as the diversity in the types of projects represented and that's exciting," Voelker said.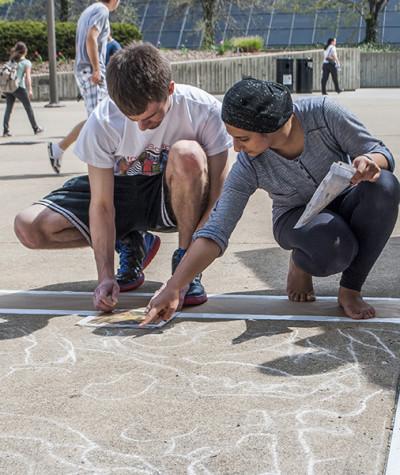 In addition to the events hosted on the plaza, a poster and interactive session will take place in the student union, a film festival will take place in the Griffin Hall Digitorium, programs will be shown in the Haile Planetarium, performances will be given in the Eva G. Farris Amphitheatre as well as in the Corbett Amphitheatre and oral presentations will be given in several academic buildings.
Voelker said the experience from the event is valuable because it helps students in terms of thinking critically, having projects that they can put on their resume, developing as a person, and developing as a scholar.
Additionally, she said it is rewarding for faculty members as well because they have students working on research that they themselves are passionate about.
Many of NKU's departments and colleges participate in this weeklong celebration such as the Honors program, Communications, Biological Sciences, The Center for Integrative Natural Science and Mathematics (CINSAM), Computer Science, and Visual Arts, according to Voelker.
This year's Celebration features a number of musical groups, including the a cappella group Anointed Voices, the Broadway Chorus Troupe, a steel drum band, a brass choir, jazz ensembles, percussion and several women's ensembles. according to Voelker, adding that a reprise of the theatre department's Arabian Nights will also be performed.
Every year there are a variety of submissions such as artistic, oral, interactive, and poster presentations. In addition to the presentations, there are also performances by artists, entertainers, and storytellers.
Director of art galleries David Knight helps Bachelor of Fine Arts seniors select and submit their works to the Student Research and Creativity Celebration; works that they will also display in their Senior Exhibitions.
"I sort of like seeing [the event] because when you're in one building, you don't always know what's going on with other departments," Knight said. "I think the important thing is that it shows both the creative side, because there's also theatre and musical based events, and the research side by people in departments such as science or biology."
In order to participate in the celebration, each presenter must choose a category in consultation with a faculty mentor. The student then submits an abstract to their mentor who reviews it and then sends it in to the event committee who makes the decision to accept or reject the project.
According to Voelker, sometimes departments even work together and present their works jointly.
"I recruit students either in my classes or students that come and say they're interested in doing a research project," Voelker said. "Some of my students are working with stone tools from prehistoric Thailand and I had other students who did research projects collaboratively."
Voelker did add that although the event is mainly meant to highlight the university as a whole, the committee does grant the W. Frank Steely Library Research Award to a student who uses the Steely Library most effectively for research of their project.
The winner of that award will be announced at the poster session.
"The poster session is always well attended so we're hoping for an excellent turnout on that and other performances and artistic events throughout the week, particularly on the plaza, if the weather's nice and it's sunny," Voelker said. "Hopefully people will be inspired to watch, learn, and participate."
The oral presentations will occur Monday through Friday and those are set up by each department while the interactive and poster presentations are on Tuesday, April 15th from 12:30-2:45 p.m. in the Student Union Ballroom.
For more information visit http://celebration.nku.edu/