One milestone has come after another for Lost Henry, a Cincinnati-based band composed (mostly) of Northern Kentucky University alums. They played their first festival gig at the Ohio Is For Lovers music festival last Saturday, just one week following the release of their debut album "Doom Party" on Sept. 1.
At the Riverbend Music Center that hosted the festival, Lost Henry played to the largest crowd they have ever seen, said lead vocalist and lyricist Landis Helwig, who called it a once-in-a-lifetime experience.
"It was pretty unreal," Helwig said. "We got to show off a lot of our material, meet a lot of new people, just meet so many people we've kind of listened to our entire lives. Just talked to a lot of people I never thought I would have the opportunity to [meet]."
And Riverbend is no small local venue. Only two months ago Helwig saw Fall Out Boy and Bring Me the Horizon—one of his personal favorite bands—at the center, along with several nationally famous acts. They are now making plans for more shows in the area and a Midwest tour by year's end.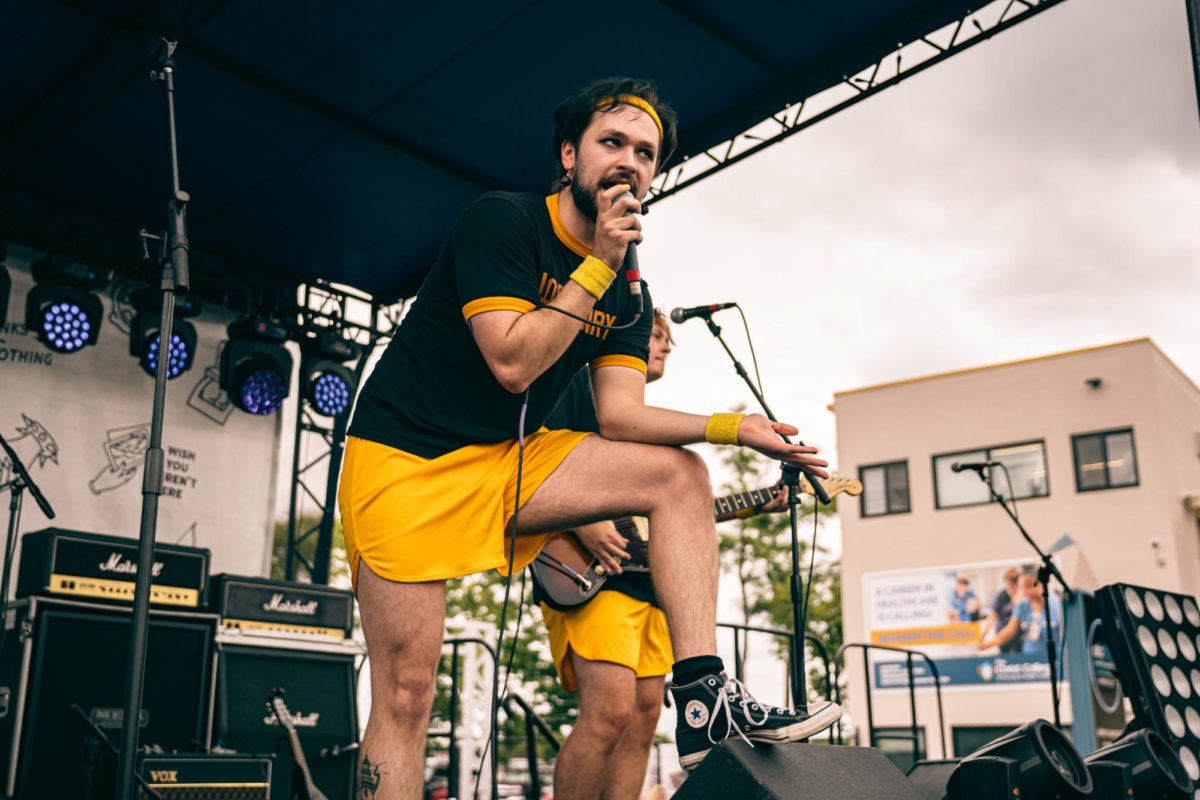 But before they got to play at the festival, before they were performing at any venue in the Northern Kentucky-Greater Cincinnati music scene, Lost Henry was practicing in The Henry Konstantinow Theater in NKU's Fine Arts Center. The student-run black box theater is what lent the band its name: Helwig, then a theatre major, lost his teeth in The Henry at one point.
What started out as a group of friends covering Slipknot for the 2019 Halloween cabaret—according to a Northerner profile of the band at the time—has evolved into its own sound. The 2019 article describes Lost Henry as pop punk and nowadays their music may be advertised as emo—not Midwest emo, which Helwig said typically features complex 'mathy' riffs drawing from math rock, despite being an emo band from the Midwest.
The influences on their music, however, span across the board—a confluence of artistic stylings as disparate as Underoath and Phoebe Bridgers. Graduation and the COVID-19 pandemic brought a lineup shake-up to the band, Helwig said, and each new member in turn brings their own musical touches to the table.
Helwig's background is steeped in post-hardcore, metalcore and emo. Lead guitarist, fellow theatre alum and Midwest emo fan Ben Eglian loves rock bands like Origami Angel and Goo Goo Dolls, but also country artists like Tyler Childers—resulting in the unlikely appearance of a mandolin on the song "Killing Spree." Bassist and former Northerner editor-in-chief Sam Rosenstiel is into indie rock like The Strokes and Vampire Weekend, as well as pop music. His brother Ben Rosenstiel draws influence from jazz on rhythm guitar. Drummer Patrick Murphy, the only member who is not a NKU graduate, likes Saosin and Sweet Pill. And all of the guys listen to Taylor Swift.
Every member had a hand in the songwriting for their new record "Doom Party," a two-year process that began during COVID times, weaving the different strands of sound into an eclectic end result.
"If somebody has an idea when we're getting together in writing and we're like, 'oh that's weird, I don't know if that would work,' that is typically the right choice," Helwig laughed. "We tend to follow whatever's gonna make the music more interesting and unconventional."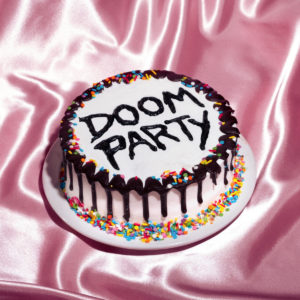 Per Helwig's description, the album is a sonic journey from front to back. It opens with the pop punk "A Soft Way to Explain a Hard Situation" (written primarily by Sam Rosenstiel), an upbeat jaunt with a melancholic or nostalgic undertone that would be familiar to Lost Henry's early days; then suddenly introduces harsh vocals to an otherwise welcoming, party-at-the-end-of-the-world "Love Scene Take 2" (written by Murphy and the screams by Helwig).
This setup shines a spotlight on titular track "Doom Party"—the hardest song Lost Henry's ever made according to Helwig—an indicting barnstormer infused with screams, bouncing metalcore riffs and a frosty post-punk resonance, which immediately transitions into the softest song Lost Henry's ever made in "Dark Winter": a lament for a depressive age with, as Helwig puts it, the sad indie feels of Phoebe Bridgers. The piano ballad "Counting Sheep" picks up the pace again, returning oomph to the rhythm and an undercurrent of frustration to the theme. "The Gettysburg Square Address" bookends the sonic journey through a melancholic but irrepressible yearning, a burning desire to escape.
"All of 'Doom Party' is to reflect and get angry about the state of things, not only in the Midwest but the country as a whole," Helwig said. "It's a record about being Gen Z and the coming fall of the empire."
He explained that across the country young people are not getting paid fairly for the work that they do, not able to pursue their plans and dreams due to economic and social constraints, and feeling unrepresented in politics because politicians are bought off in super PACs and busy fighting culture wars instead of giving aid to people who need it.
"We were sold for our entire lives this big ol' American Dream that so many of our parents and grandparents got to experience, like the highs and highs of Reagan and living through the Bush era. I grew up right after 9/11, so everything I heard was the War on Terror and all that," Helwig said. "It's just been so ingrained in us that we're always looking over our back, ready for the next collapse of America."
A pessimism and anger at the catastrophes of recent years—the COVID-19 pandemic and ongoing police violence—animate "Doom Party," but Helwig is optimistic that Gen Z will turn things around and deliver the nation the release that it so desperately needs.
"I know so many accepting, bright, beautiful and motivated people in this area, our age and younger too," he said. "I work down at a music school in Florence, so I see these kids day in and day out. The things they believe in and the things they're passionate about, it gives me so much hope for the future."
The music and attitude of Lost Henry reflect this twin mentality, rage and hope running parallel and intertwined in youthful defiance. As their songcraft continues to mature just as their debut represents a step up from their preceding EP, the band has yet many promises lying ahead.
"Doom Party" is available for purchase and streaming on all popular platforms.