NKU students present Purrpulsion game at Ohio Game Developer Expo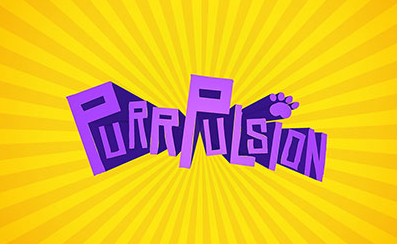 Video games are a part of many students' lives, but few have the opportunity to actually create them. Students at the Center For Applied Informatics recently had the opportunity to present their passion project, Purrpulsion, to the Ohio Game Developer Expo.
"We're a team of eight and are looking to form a company in the Northern Kentucky area. There are great [game development] communities in the Columbus and Lexington area. So we wanted to pop that bubble and get something started in our area," project business lead Branden Middendorf said.
Purrpulsion's premise is simple and humorous: You and three people control jetpack-clad cats flying through a barrage of projectiles from the villainous dog pirates. Your objective is to be the last cat standing. The longer you last, the more intense these projectiles fly. Miscellaneous power ups like invincibility and increased flying speed make the game even more frantic.
"We got [our] inspiration from the local community," Middendorf said. "Last OGDE [Ohio Game Developer Expo] we met with the developers of Astronaut Kitty Boom Boom. It was so simple and fun to play that we wanted to make something that was [just as] fast-paced and replayable."
The fast-paced, chaotic nature of Astro Kitty Boom Boom inspired the frantic gameplay of Purrpulsion, with a focus on local gameplay.
"I really liked the fun, competitive nature that [Astro Kitty Boom Boom] had and that's what inspired me to start work on Purrpulsion. We thought 'what's more outrageous and funny than cats flying around on rockets?', so we went with this basic idea and expanded on it," said project lead Brendan Dickinson.
There's a tendency for even the most ridiculous and frantic games to get heated, and Purrpulsion taps into this facet of party games.
"Everyone on the team is pretty competitive in [things like] Mario Party minigames, which is what made us want to make it a four-player local game," Middendorf added.
Purrpulsion had a lot more eyes on it at the Ohio Game Developer Expo, an event meant to showcase the many creative games from developers across the country. Located in the Center of Science and Industry building in Columbus, the expo was a significant opportunity for the Purrpulsion team   .
"With Purruplsion, I had a great team with me and we were able to prepare a lot of stuff ahead of time. Not only was I happy to be showing off the game, but tons of people had fun playing it. Because it was hosted in COSI this year, there were lots of smaller kids that got to play it and every single one of them loved it. It was the first time I really got to see that with a game I created," Dickinson said.
"This was the second year OGDE ever happened. Last year, we just attended and met up with local developers. A lot of my team went and was astounded by the game development community in our area.The looks of joy on [kids'] faces made everyone feel awesome knowing that our hard work is paying off," Middendorf said.
"I make games because I love it, but being able to bring other people joy makes it all worthwhile," Dickinson said.
Purrpulsion is still early in development. The team looks to bring Purrpulsion to the PC and the Nintendo Wii U at a later date.