Student helps plan MidPoint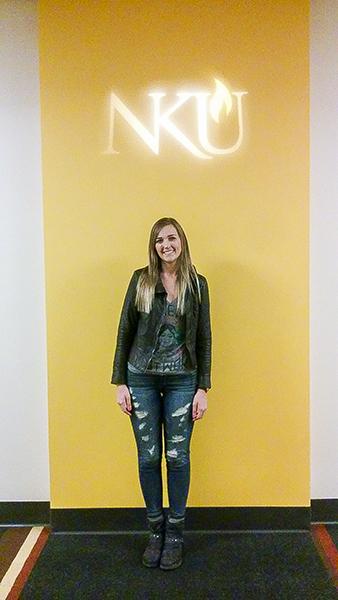 Imagine you are eight years old. You're bubbly, social and obsessed with shows on HGTV. Your mind is filled with creative ideas and dreams of growing up to be an interior designer.
Now imagine that your entire family is rooting for you to enter a medical profession.
A Long Road Ahead
This was true for NKU senior marketing major Shay Phipps who was originally enrolled to go to UC for their pre-dentistry program but decided against it to go to NKU last minute for the college of business.
"I started thinking, 'what is it about interior design that I really like?' and it's the fact that there is a lot of freelance and it's a very independent position. You do get to work with people and there's a huge creative element to it," Phipps said.
Next she thought of the kind of job that would be more sustainable and closer to her career vision; she settled on marketing.
In one of her internships, she acted as an independent contractor for Southwest Publishing, a company based in Nashville.
She then moved out to San Francisco, California for this internship.
"I took care of an entire county. I got to know their school system and I had to figure out what some major problems were in that system," Phipps said.
Phipps then tried to market a product to the area that would help solve some of the common problems, racking up 80 hours a week.  After that, she realized her interest was not in sales, which pointed her toward the promotional aspect of marketing which entails understanding the customers and what they need.
A Whole New World
Today Phipps is an ongoing intern for Cincinnati magazine CityBeat, which she began in May. It was in this position that she was involved with planning a lot of the events for the upcoming MidPoint Music Festival.
"[MidPoint] is taking off and that's great for our sponsors, especially for our local sponsors, because there are people who do travel from all over the nation to come to this event," Phipps said.
Her internship as the marketing director's assistant makes her primarily responsible for reaching out to vendors but also for planning, implementing and directing all of the events.
Phipps said she worked with Midpoint promotional events, of which she specifically enjoyed Friday nights in Fountain Square.
According to Phipps there were several regulars who would come back, recognize her and say hi.
"I remember there was one guy in particular. I don't think we ever really exchanged names but we were always just like 'hey!' and he would come over and hang at my table and everything. He was just so excited for this event," Phipps recalled.
She said the man would show up every Friday because he wanted to hear the music and try to win tickets. CityBeat has a drawing where people can put in their names and receive two 3-day passes to MPMF if they are picked at the end of the night.
"He has had such a great outlook on the event that he's like 'I've gone every single year. Even if I don't win tickets, I'm still buying my three-day passes,'" Phipps said.
Location, location, location
Phipps is also excited about the fact that some of the musical performances are taking place in Over the Rhine.
According to Phipps, people are really working on cleaning up that area of the city and it is becoming a safer place.
Moreover, she said it's becoming more sustainable for the families that are living there.
"I honestly think it's just something that's huge that's helping impact that community in a positive way," Phipps added.
Phipps said her most rewarding experience at CityBeat was working on an event called 'Crafts and Drafts,' which she began planning in June and which took place on Sept. 6.
Because this was the first year for this event, Phipps said she and her marketing director took the task head-on.
Phipps had to reach out to vendors all across Cincinnati by calling and emailing people who might have come to a brewery like Rhinegeist and presented their art.
"I might've seen art things going on in the city and then we'd go there and get business cards," Phipps said. "There were tons and tons of business cards and I had to get all of their information into an excel spreadsheet. It honestly was a huge research project for me."
CityBeat hosted at least 30 vendors at the Everything But the House location including Tazza Mia coffee shop, Catch-A-Fire Pizza, and boutiques that are already in the OTR area.
Phipps said when it was all said and done everyone had a blast. It was her first big event she had taken on almost entirely on her own and she said she had never done something like that before so it was rewarding for her.
"I would just be talking to a vendor and someone would come up and be like, 'You're with CityBeat? I just wanted to tell you this is awesome. Have this again next year,'" Phipps said.
According to Phipps, some of the vendors made more money than they have ever made at any art show or any art event CityBeat has done.
"It was a really good turnout. We had well over 2,000 people there in attendance," Phipps said.
One organization that stood out to Phipps was Bead for Life, which sells women's handmade jewelry from Uganda and promotes female empowerment. Phipps said they made enough money to support a young girl at a private school for a year and a half.
Marketing and Beyond
As for the future, Phipps plans to work for CityBeat at least until the beginning of next year but sees herself in a corporate marketing manager position and might move to the organization's San Diego location when she graduates.
She said she definitely wants to have an impact on the social aspect of the community.
"I believe that the closer the community is, the stronger your city is," Phipps said. "I see myself being able to grow with the company and help them break down barriers and borders that maybe aren't seen as traditional business."
Moreover, Phipps believes that CityBeat is a pretty diverse company, but she wants to help it to expand. She said she's all about culture and diversification.
For example, she said she believes CityBeat has a very strong presence in the LGBT community because they've helped push for a lot of rights and helped with events such as the pride festival earlier this summer.
Phipps hasn't worked much with CityBeat's sister publications she said, but she's noticed that here in Cincinnati, the company really values culture.