NKU founder passes on his legacy to the next generation
While all history professors have qualifications to teach their respective subjects in the classroom, few may know the history of the institution in which they teach at firsthand.
However, for one of NKU's original founders and current Regents Professor of History, every step of the university's development has been a part of his own history.
Jim Ramage was completing his Ph.D at the University of Kentucky just before he heard the news of an emerging college in Northern Kentucky.
Although Ramage was eager to be a part of this developing institution, his acceptance of this invitation was a very practical decision.
"My mindset was that this was a job offer and I'm taking it," Ramage said with a chuckle. "I knew that jobs were getting scarce so I accepted Dr. Steely's invitation and have never been sorry."
Arriving on Jan. 2, 1972, Ramage was able to complete his dissertation by May. Four years later, he was a full-time faculty member and had plenty of work ahead of him.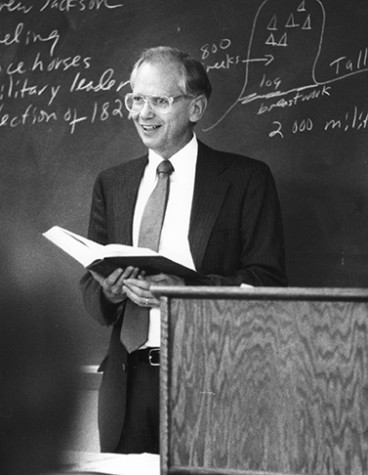 "We worked 60-80 hours a week but our morale was high because we were accomplishing something that was permanent and meaningful," Ramage said. "It was the atmosphere of a rising frontier town – a time of optimism."
Even though it wasn't easy turning "this small farm" into a fully functional university, Ramage was among a proud few who were determined to make the dream a reality.
Although Ramage was born near Paducah, Ky., he had a very familiar face close by in his new home – that man was Dr. Frank Steely, NKU's first president and Dr. Ramage's mentor at Murray State University.
Ramage described Steely as "one of his dearest friends" and was particularly inspired by Steely's student-oriented approach to higher education.
"He put the students first – his hurry to get the university open with an affordable, four-year program was based on his concern for the students," Ramage said. "In Frankfort, Louisville and Lexington they said he was trying to make Northern 'fly before it could walk,'" Ramage remembered with a laugh.
By the time Ramage was a full-time faculty member in 1976, Northern was upgraded to university status. As the years rolled on, another milestone in his educational career was under way – and it took place within his own family.
While taking a historical tour through the Gettysburg Battlefield, Ramage's daughter took a special liking to the overall experience. Several years later that same girl, now known as Dr. Andrea Watkins, holds an office in NKU's history department just across the hall from Dr. Ramage himself.
"The history really came to life for me when I walked out onto that battlefield," Watkins said. "I traveled a lot with him as he did research, but it wasn't really real to me until we went to Gettysburg."
Ramage said that he and his wife had no intention of pushing their only daughter into a teaching career, but was very pleased with her decision. "She was interested from then on," Ramage said. "And it was no real surprise that she became a history teacher."
Once Watkins accepted a position as a full-time faculty member at NKU alongside her father, one of their most notable projects fell into their hands.
After being asked to write a book by the Kentucky Historical Society, the father-daughter team was able to put their passion and hard work into one comprehensive project: a chronicle of Kentucky's history from 1800-65 entitled, "Kentucky Rising."
"It was an honor to be asked to write it," Watkins said. "And for me personally, it was very much an honor to write it with my dad. I never imagined in a million years, I'd be able to write a book with him."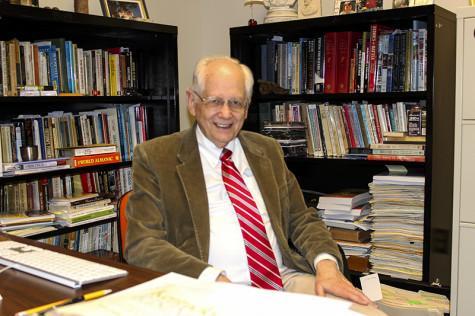 Ramage agreed that this was also a high point in his career as an educator and researcher. "Writing that book together was the real culmination of our work," he said.
Now with a daughter who's followed in his footsteps and a number of honorable achievements to his name, including "Outstanding Professor of the Year," Ramage is very pleased that President Steely's original vision of putting the students first still holds true.
"That's the way it's always been at Northern," Ramage concluded. "That's the way it was with the founders, and I'm thankful that it's continuing today."