This week's cover: Breaking apart NKU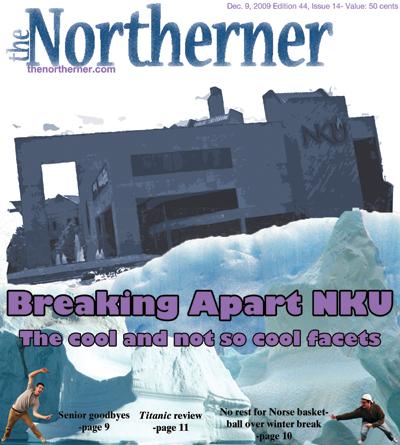 What's cool
'
Basketball
The basketball programs at Northern Kentucky University are among the nation's elite in Division II competition, and the teams are led by coaches who carry on the tradition of winning.
The NKU men's and women's basketball teams are continuing to grow as they attract players from all around the country.' The programs are even becoming known to players who are looking to transfer from Division I schools.' Combining a rich basketball tradition with the new Bank of Kentucky Center has been a recipe for drawing top talent to NKU.
Tradition and new facilities are important, but the coaches are the key ingredient needed to recruit and teach the game of basketball and to implement a system that leads to victory.
Head Coach Nancy Winstel has a young squad that will face many challenges during the 2009-2010 season.' Winstel has established an overall record of 577-187 as she heads into her 27 season on the bench for NKU.' She has 616 career wins as a head coach, the third most in GLVC history.' Throughout her illustrious career, Winstel has coached the Norse to two national championships, five NCAA II Final Four appearances, six NCAA Elite Eight appearances and three GLVC titles.
The Lady Norse finished with a 29-3 record last season, which helped them claim the GLVC East Division title and the GLVC tournament championship to earn a No. 1 seed in the NCAA Division II tournament.' NKU lost to Michigan Tech in the second round.' Look for them to return and compete in the NCAA tournament again this season.
Head Coach Dave Bezold has a very talented group to work with as he enters his sixth season at the helm.' Through five years at NKU, Bezold has established an overall record of 100-50, with a winning percentage at .667.' His overall conference record is 61-34 with a winning percentage at .642.' The friendly confines of Regents Hall and, now, The Bank of Kentucky Center have certainly been advantageous for Bezold, as he currently owns a 59-15 record at home with a winning percentage of .797 for his career.
Last season, NKU put up 24 victories against just seven losses and a most impressive 14-4 record in a conference that put five teams in the NCAA Tournament.' Bezold led the Norse to their third straight GLVC East Division Title and their first GLVC Championship since the 2002-2003 season.' NKU lost in the first round of the Division II NCAA tournament, in a hard fought game that went into two overtimes, to Lake Superior State University.
-Michael Collins | Sports Editor
'
'
Skyline
One of the greatest feats about turning 21 is you can finally get into a bar. Legally, that is. What's cool about Northern Kentucky University is that you can go to the bar right off campus. You don't have to wait until after 9p.m. to go and have a drink.
Now, I am not saying that you should go and get drunk in between classes or anything, but having one beer won't hurt anything. It is just a nice way to relax, especially if you have had an extremely bad day at school or a test you may have flunked. Either way, going to Skyline Tavern, could be a way to release some of that stress. Listen to some music, have some lunch, do some homework or chat with friends.
If you are really feeling adventurous and you need an even more relaxed 'night' out, you could go there on Wednesday night for karaoke. Don't sing? You don't have to, but you could listen to everybody else.
How many other college campuses have a bar that is directly behind the school? I know the University of Cincinnati has several around the area, but there are quite a lot of schools that are in a dry county- meaning no alcohol at all. Imagine having to drive through two or three different counties just trying to find a bar. Not so cool. Better make sure you have a DD though. Don't want to get into any trouble driving under the influence.
-Chris Miller | Contributing Writer
'
What's not cool
Parking
Students pay an average of $3000.00 per semester while attending Northern Kentucky University.' They may pay another $200-300 for books per semester. Add housing, food and entertainment, and it is no wonder there is the common stereotype of the 'poor college student.'
Especially in economic hard times like we are facing today, it's obvious that people are going to try new ways to cut corners financially, enter the dreaded parking pass.' A parking pass at NKU costs almost $200 for one full year. Add that on top of the already towering expenses, and it becomes clear why many students try to dodge buying the parking pass.
If one doesn't have a parking pass, where do they park? What happens when they are caught parking without a pass?
In the economic crisis America is facing, you may think that NKU would be a little easier on students who don't have a parking pass. But that is certainly not the case. If a student parks in a faculty parking lot, they will receive a $50 ticket. If a student parks in a student parking lot without a valid pass, they will receive a $35 ticket. And if that doesn't seem ridiculous enough, once a student receives their third ticket of any kind, a immobilizing 'boot' will be placed on their tire of the car.' This boot costs $50 to be removed. And if the student doesn't have the money? Tough luck. Under no circumstances will the parking service cops remove the boot until the fee is paid.
-Katie Blair | Contributing Writer
'
myNKU
I want to pose this question to the administration at NKU – What was so bad about Norse Express that made you want to do away with it in favor of MyNKU?
From a student's perspective, Norse Express did just what we needed it to do. We could easily schedule classes, get a degree audit and check in on our financial aid.
With the newly instituted MyNKU, you can't do either of these things without having a step-by-step pamphlet beside you to instruct you on what to do.
MyNKU was rushed into action before all the kinks could be worked out, thus causing numerous horror stories of this going wrong or that going wrong. Getting through classes is sometimes a hassle enough; we don't need another headache when we try to check our records.
Yes, it looks nice, but looking nice and working properly are two different things. The new NKU Web site looks good and works well, but the same simply can't be said about MyNKU.
In the past, scheduling classes was a breeze. All you needed to do was to write down the six-digit course number and type it in the proper section on Norse Express. With MyNKU, you almost need to know how to perform brain surgery before knowing how to schedule a class.
-Chad Hensley | Contributing Writer
'
Cell Phones
When I first enrolled at NKU way back in 1994, I had only seen cell phones on T.V. and in movies.' Zack Morris on Saved By the Bell had a large walkie-talkie sized phone and was always using it in class, much to the dismay of Mr. Belding.' There were still pay phones in public places and all over campus.' I had a pager which I used to screen my calls.' Nobody had a cell phone.
Now everybody has a cell phone, and they take it everywhere.' It is the most important possession some people own.' Their life would stop if they lost or broke their phone or had to do without it for one day.' This is troublesome to me because I actually remember when there weren't cell phones.
A 2006 San Francisco Chronicle article reported that cell phone users have increased from 34 million in 1996 to more than 203 million.' While pricey when first introduced fo
r sale to the public, cell phones are now affordable and available in many places.' They are a great way for families to stay connected, helpful to parents for reaching their children and good to have in case of an emergency.' But how are there no rules for using cell phones anymore?' There doesn't seem to be any place sacred enough that people will refrain from using their phones.
In the grocery store, while driving, in line at Kings Island, in the waiting room at the doctor's office, etc.' The place I loathe cell phone usage the most is school.' I understand that Facebook and updating your status every five minutes is important to some, but while you are sitting in class?' It really can wait until the end of the school day or when you are having lunch or taking a smoke break.' I find it extremely disrespectful to see fellow students with their phones under the table or desk and texting during class.
Having inappropriate conversations on cell phones at school is an annoyance as well.' Sometimes walking through a busy college campus or sitting in the hallway of the Fine Arts building is not the best place to discuss Uncle Johnny's hepatitis scare or how wasted you got the weekend before.' I don't know how many times I have found a nice quiet corner to read in only to be ambushed by a student in the middle of a conversation on their phone.' They pay no mind to the student reading or studying. They just sit down next to you and carry on their conversation daring you to even look their way or raise an eyebrow.'
-Holly Henson | Contributing Writer