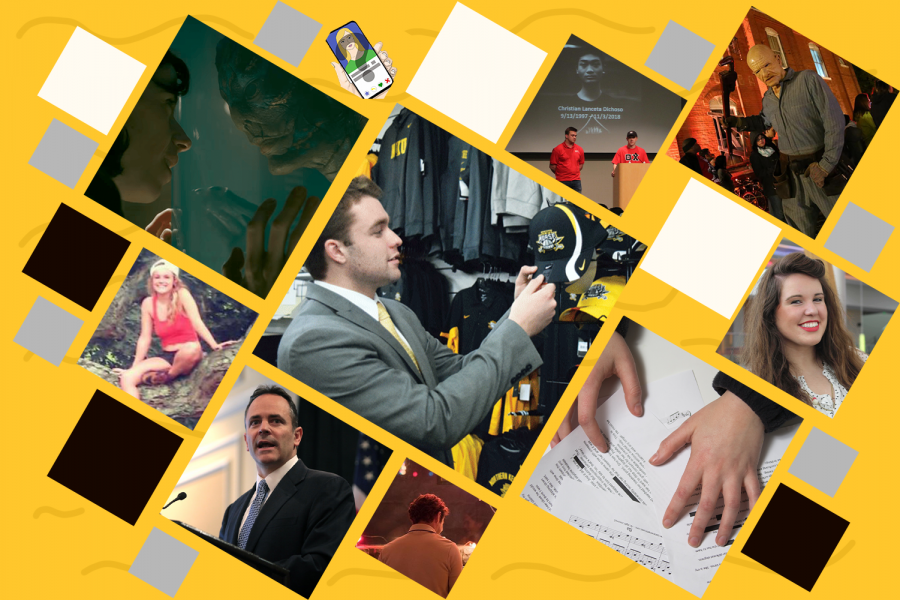 Twerking, university funding, student vigil: most viewed stories of decade
December 29, 2019
Between 2010 to 2019, The Northerner amassed 1.1 million page views on our website alone. In this decade, NKU has gone through three university presidents, built and renovated new buildings, transitioned to Division I athletics and added a new college.
The Northerner wanted to spotlight 10 of the top 25 stories that were the most-viewed this decade. Some tell fun stories of never being kissed at 22-years-old or twerking for Juicy J. Others tell of significant moments that brought the campus together, like student vigils and sexual assault reporting.
Thank you for supporting us, and we hope you stay tuned for 2020.

(2,059 views)
    by Matt Sexton, Abby Anstead – March 24, 2016
In 2016, NKU switched logos to reflect the shift to Division I athletics—but Norse Nation didn't agree with the change. Student petitions to revert the logo back to the old logo reached almost 500 signatures in 48 hours.
Athletics had 17 different logos in place for the Norse, so the change was made in hope to create consistent branding. Colors switched from gray to gold and a four-color logo to a three-color logo.
The change caused controversy on campus; one student said it was 'really ugly,' while others looked at the cost effectiveness for solace.

(2,119 views)
    by Mackenzie Manley, Sam Rosenstiel – April 11, 2018
In 2018, former choral director Dr. Randy Pennington resigned from his position at NKU after a university investigation found he had violated the sexual assault policy. In the follow-up, Manley and Rosenstiel spoke with Natalie Brady and used Title IX documents to tell the other survivors stories about their experiences with Pennington. The story details exchanges, altercations and text messages that Brady and the other survivors received.
Manley said they spent hours combing through documents and reaching out to sources. She said she knew the story was going to be difficult to navigate.
"Mentally and emotionally, covering the topic of sexual harassment is really heavy. It's a sensitive — and stigmatized — topic to write on and was the biggest weight of all," Manley said.
The story also went forward to a finalist for best news story at the state and national level for student journalism.

(2,578 views)
by Chanell Karr – February 12, 2014
Chanell Karr celebrated her 2014 Valentine's Day by bearing all about never being kissed. The 22-year-old wrote how she had 'never had a boyfriend, never been on a date and have yet to legitimately hold hands with a boy.'
Karr said that, at the time, she and her friends joked the 1999 Drew Barrymore movie "Never Been Kissed" was the story of her life.
Now 27, Karr said although she may disappoint some readers, she has yet to be kissed. However, she noted that with time comes self-love.
"For now, I will continue to love myself, because as the cliche saying goes — "No one is going to love you, until you learn to love yourself,"" Karr said. "I've had 27 years to love myself, are you ready to love me too?"

(3,070 views)
by Sam Rosenstiel – January 16, 2018
At the beginning of 2018, Governor Matt Bevin proposed a 7.7 percent funding cut from NKU which equaled out to $3.9 million of funding. Bevin went even further to recommend that NKU receive 47.1 million for the 2019 fiscal year, down from the original funding of $51.6 million funding.
This announcement led to several follow-up stories and updates about the Kentucky pension crisis through the end of Bevin's term. It also bled its way into several SGA elections as an initiative to 'rally for higher education' in Frankfort.

(3,292 views)
by Josh Kelly – November 8, 2018
After the death of student Christian "Jet Li" Dichoso, students, faculty and community members gathered to honor him through an open mic remembrance. The night filled the Student Union Ballroom and brought the campus together during a time of loss.
Dichoso's family, friends, mentors and co-workers all spoke about how Dichoso had touched their life at some point or another.
"He was loved and he'll forever be loved," Nicole Millward said about Dichoso.
The vigil also commemorated the beginning of the Christian "Jet Li" Dichoso scholarship. One year later, Theta Chi—Dichoso's fraternity—held a gala raising funds for the scholarship and reminiscing on his legacy.
(3,411 views)
    by Mackenzie Manley – February 18, 2018
Zac Efron spent a snowy Saturday filming the movie "Extremely Wicked, Shockingly Vile, and Evil" on campus and students went a-flutter. Efron was spotted in Nunn Hall, Steely Library and the Duchess lot—Lot I if you don't know—and hunted by several students all throughout campus.
Students gathered in their cars to enjoy a brief glimpse into what it takes to film a Netflix Original Movie and for their childhood celeb's turn as the infamous Ted Bundy.
If you want a first-hand experience into what it takes to find a killer, read "EDITORIAL: One year after Zac Efron came to campus" to see how one of our editors spent his day searching for Efron.

(3,682 views)
by Derek Bischoff – October 5, 2010
Dent Schoolhouse, the most haunted schoolhouse in Ohio, has some pretty deep and wicked history. A quick look at the number of students that disappeared in 1942-1952 tells it all. In this brief telling of the 2010 season of "Detention Hall," you learn what to expect when going into the building.
"Legend has it that the school is still home to the souls of the murdered children wandering aimlessly through the halls, and the basement is the dwelling place to the deranged Charlie," Bischoff writes.
Although the haunted house is closed for the year, you can expect them to open again in September. Prices and season theme have yet to be announced, but after their 2019 season expanded to the December months, you might be able to catch a holly jolly horror show.

(16,789 views)
by Kyle Thompson – February 12, 2014
In 2014, the dating app world had begun to boom among college students, and The Northerner wanted to give students a hand in how to navigate online dating.
The list gives quick fast facts about the then top apps for finding a partner, naming OkCupid and Tinder as some of the best. But if you're looking for a new pool to dive into, it also gives the upsides to DateMySchool, Badoo and Let's Date.
Now, in 2019, we have a plethora of dating apps that try to help you find the one. Still, it is beneficial to know the safety when using dating apps and be alert when meeting someone from an app. To learn more, read this year's "Dating in the digital age: safety, awareness" to learn about safety precautions when meeting someone from the Internet.

(18,163 views)
by Jude Noel – November 25, 2017
This story has continued to be a running joke here at The Northerner. This story, published over 750 days ago, often remains in the top read story charts week-after-week.
Jude Noel's descriptive review gives his positive opinion of the 2017 sci-fi film. Two years after the release, Noel said that he is still a pretty big fan of the movie, and was shocked that it won the Oscar for Best Picture in 2018.
"I really respect Guillermo del Toro's unpretentious combination of high art and fantasy, and The Shape of Water is my favorite work of his that I've seen," Noel said.

(18,668 views)
by Kevin Schultz – September 26, 2013
The story that twerked it's way to the most buzz during the decade was the twerking scholarship contest held by Juicy J. Morgan Bruin, then a freshman, participated in the contest to see how far she could twerk for a $50,000 scholarship. She finished fourth out of the top ten at the time of reporting.
"I apologize to my family in the video. I don't want to offend anyone by doing it, but I have a talent that people to deserve to see. And if I have to twerk my way up, I have to twerk my way up," Bruin said in the article.
Bruin got involved because of an ex-boyfriend who told her she could never attempt or even win a contest like this.
"I want to win this scholarship to join the Peace Corps and stuff, not just to win it to say I can twerk better than other people," she said. "I'm doing it to move up in the world, to show people you don't have to be a certain type of person to do certain things."
However, Bruin did not win the twerking scholarship. In 2019, we were unable to find Bruin to comment.