Documentary project proves to be an extraordinary experience
About this time last year, I was approached by one of my professors and asked if I'd be
interested in working on a documentary project with a few EMB students and a non-profit in Cincinnati. Not really knowing what I was agreeing to, I said, "Yes," and while it has been a struggle at times, it has been an enormous learning experience and one I will never forget.
Wordplay, the non-profit in Northside where we have been filming, provides free tutoring, literacy and creative writing programs for Cincinnati students K-12 and one of those programs is a poetry group for high school students called WordUp. We were approached to create a documentary of these students as they learned how to write poetry, how to perform it and how to compete in a poetry slam called Louder Than A Bomb.
We met the following fall for our first official documentary meeting with our student team, our NKU professors Sara Drabik and Michele Day, WordPlay co-founder Libby Hunter and our Charitable Words sponsor Tom Callinan.
One of the first things I saw on the wall when I first walked into WordPlay on that unseasonably cool October afternoon was the quote, "Everything has a story…what's yours?" With fellow documentary members Taylor Harris and Holland Rains, I would soon learn just how true that quote really is.
Now, I had no idea how to make a documentary when we started this project (and I still might not know how to do it) but I do know a lot more about these amazing kids who I probably never would have met had it not been for this project.
The first day we walked into WordPlay with our cameras, we saw a handful of high school students who would blossom over the next 9 months. Some immediately loved the chance to jump in front of the camera but others were shy and hardly spoke.
While those students who loved being on camera haven't changed, the greatest part of this project has been seeing those shy students open up and blossom into poets.
One student always sat with his headphones on during the meetings. Week after week, I would watch as he would come in the room, put his head down on the table and listen to his music.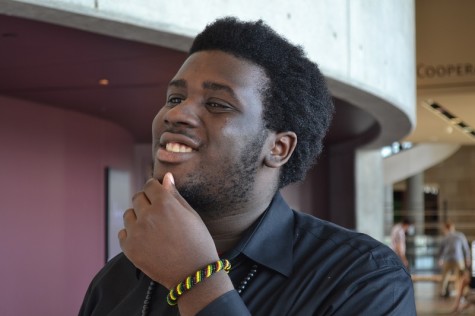 Then one meeting was different. He was sitting up with no headphones in sight. He had a piece of paper in front of him and words he had written on the page. He wrote and practiced and when the semi-finals came, he walked up on stage and performed. I was amazed at the transition that had taken place. This couldn't have been the same young man who sat in the corner sleeping before.
This was the power of poetry at work.
From the first time I saw Lacey Robinson, 17, perform his poem, I was impressed. He has an unsurpassed natural flow and stage presence which culminated in a nearly flawless performance at the Louder Than A Bomb finals on April 18 where he won the top score in the individual bout.
I saw a young man perform a poem that caused the crowd to collectively hold their breath. At times, the crowd would cheer and Robinson would hold the crowd. Something you would expect from a professional poet, not a high school senior. He would say a line and the audience would cheer and then Robinson would hold up his finger and pause until the crowd was quiet again before saying his next line. The audience loved every moment and hung on his every word.
The passion and energy he imparts into his work makes him shine on stage and the audience can't help but getting swept up in it.
Still, the best part of the story is who Robinson is and how he never let the competition or his personal success change him from the kind-hearted young man his friends and teachers all know him to be.
Robinson has a hug or a kind word for every person he sees and competition didn't change that. He would give a high five and a hug to the person competing against him and was seen between bouts giving advice to fellow competitors.
That's the kind of students we've had the joy of getting to know.
Now that the lights have dimmed and the slam is over, life continues. The high school students all went back to school the following Monday. My NKU teammates still have finals and graduations to think about, but we have been changed by this project.
Hours of editing looms in the near future for us but what will emerge from the other side, I'm sure, will be uplifting, heartwarming and inspirational. Not because of anything we've done but because that's who these kids are.
To find out more about this project and to follow our progress, please visit our blog, wordupdocproject.wordpress.com. The link is on the Northerner's blog page.