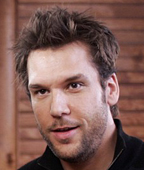 Photo courtesy of MCT Campus
First, a round of applause should go to those at the Bank of Kentucky Center for having such a great line up these past few weeks. There was Jay-Z, Daughtry, Reo Speedwagon and Styxx-Styxx people! You know Mr. Roboto, Renegade ring any bells-and then there was Dane Cook on November 15, arguably one of the biggest names to come through, our little slice of heaven here at, Northern Kentucky University.
There aren't that many comedians who can hold a stadium size audience for nearly two hours, but Dane Cook can. He has reached a spot where most musicians and fellow comedians would like to be-filling arenas, like Madison Square Garden, and having a fan base that reaches from coast to coast. It is also hard for a young comedian like Cook to reach such a vast audience. For example, there were a pair of thirteen-year-olds sitting behind me and those of the elderly ages in the rows in front of me.
Cook came out to a roar and the flashes filled the room as he took the stage. Like Jay-Z who asked if he was in Cincinnati or Kentucky, Dane had the same problem asking the crowd where he was. The mixed crowd went back and forth with uproars but Dane ultimately combined the two into, CinciTucky!
The show was one of the best I have seen. Those who criticize Cook for being a bad comedian should really see him live. He has an energy about him that spreads throughout the crowd and makes them wanting more. He has a style of comedy that makes you think, makes you gag and hurting from laughing so hard. He did jokes from his new album and his Comedy Central special, 'Isolated Incident'. He did bring back some old favorites like 'and the pickles.' His show covered everything from dropping his cellphone into a urinal to the secret folder on a guy's computer, that is full of questionable material.
Cook had the crowd going the whole night. When he walked off and people started heading for the exits, Dane came back out for an encore. For his encore he pulled out an email he received from one of his haters. The email pretty much said he was a joke and his parents died to get away from his horrible comedy. Then Cook read another email he received from the same person, saying that he sent the email at a bad time in his life-his dad had passed as well and was dealing with it by drinking. In Dane's reply he said the same thing the original email said. Dane said the guy's dad died to get away from him.
Cook left the stage saying, 'By round of applause how do you feel?'
For a comedian to reach the level that Cook has over the years with sold out shows, movies like Employee of the Month, which despite what critics say is a hilarious movie. His style might be loud, crude and in your face, but that has worked before, anyone remember George Carlin?