Every August, the Horizon League releases their pre-season poll for men and women's soccer. The poll is an indication of where teams are predicted to finish at the end of regular season play.
Women's soccer took a blow at the beginning of their season when they received the news that they were polled eighth out of 11 Horizon League teams.
The Norse then began with tough pre-season games, and a schedule challenging for a mid-major school.
"We went to the University of Kentucky to open our season for an exhibition game and were able to tie it 1-1," said senior goalkeeper Mickayla Kowalski.
This first win, only five days into their pre-season was a huge motivation for the team as they lost 3-0 to UK in the spring, having been completely dominated.
Their strong pre-season form continued as they drew the University of Cincinnati 0-0 at home, and the University of Louisville 0-0 away.
However, conference play began against IUPUI in September, and something was missing out on the field.
"We hit this spot in our season where we were having a hard time scoring goals" said junior Lilly Yordy, a spring semester transfer from the University of Louisville.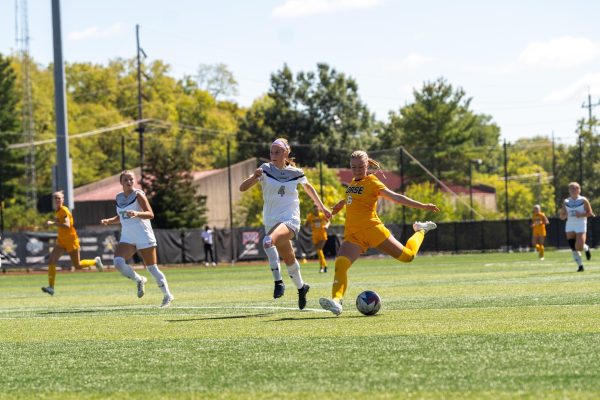 Lilly Yordy in action (taken by NKU Athletics) 
This struggle in attack was reflected in their results with the Norse opening their conference play with 3 ties and 2 losses.
The turning point came on the road against Green Bay Wisconsin. 
"We were all in the hotel, and we had an hour-long meeting with no coaches, and said 'what do we need to do as a team to start winning games?'" said sophomore Meghan Belrose.
The meeting involved every single player, "everyone was an equal, we are each other's family, and team chemistry has improved as everyone was able to give their input," said Belrose. 
The Norse went on to win 4-1 against Green Bay Wisconsin and would not lose another game in regular season.
"Our set pieces provided opportunities throughout the season, but it was the connections that made an impact. The meeting meant we knew what we needed from each other, everyone spoke, and those final shots started to go in," said Yordy about the change in momentum in the middle of their season.
The dramatic turnaround secured the Norse 3rd place in the Horizon League regular season and a home advantage for their quarter final matchup against Detroit Mercy.
They dominated the game, securing a 1-0 victory and a ticket to Milwaukee for the Horizon League Semi-Finals.
Arriving in Milwaukee, the team sensed a change in the atmosphere as they began to realize what they had achieved.
"The top four feels very different to the top six and once we made it there, we knew these were the biggest games you're ever going to play,"said Kowalski.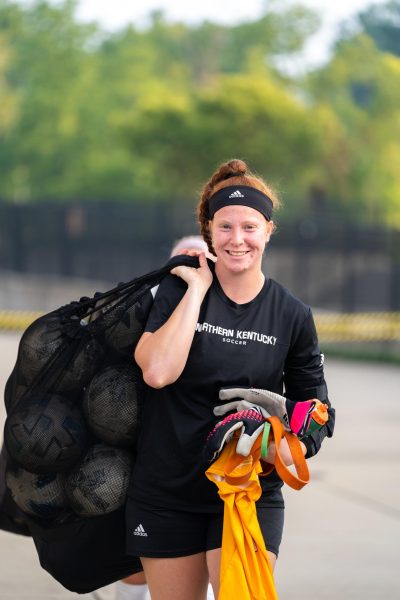 Mickayla Kowalski pictured (taken by NKU Athletics)
The Norse went on to face IUPUI for their Semi-Final, having tied them 1-1 in their conference play opener.
The two teams proved to be very equal once again, as they remained 1-1 after extra time and the game was decided on penalties.
"We were so confident, we had been practicing for penalties all week and once it came, we were ready," said Kowalski about going into the shootout.
Each player took around 32 penalties in preparation for the shootout, and it would pay off with the Norse winning 4-3 and Kowalski making the game winning save. 
"I made the save, waited for the ref to blow the whistle, and he did, and I just remember my teammates running at me," said Kowalski. 
The dramatic win against IUPUI placed the women in their first Horizon League Championship final since 2020.
They went on to face regular season champions Milwaukee, who were undefeated in their conference games this season and are playing the final with a home field advantage.
"It was a fairly even game, we both had opportunities to score and then they got a corner and there was a handball in the box," said Yordy about the final.
This hand ball in the 81st minute awarded a penalty to Milwaukee, who clinically finished it off and sealed the game with a 1-0 victory. 
"I got that hand ball, and it was absolutely devastating, I just felt so guilty," said Belrose about her involvement.
Meghan Belrose in action (taken by NKU Athletics)
The team chemistry was needed now more than ever as they rallied around Belrose to assure her it wasn't her fault.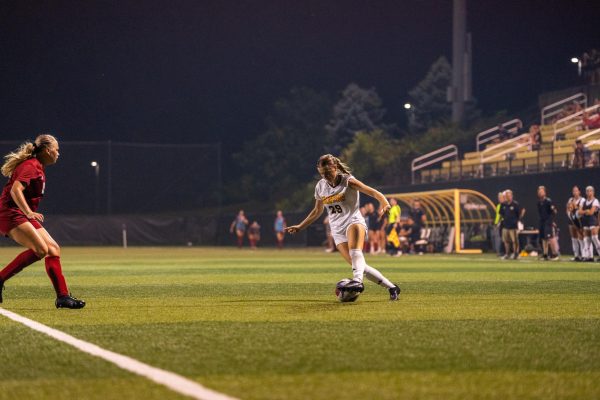 "Everyone was so kind, no one blamed me, and we gave that final our all," said Belrose. 
The NKU women's soccer team left Milwaukee as runners-up but also with some individual awards.
Junior and captain Lydia Self was awarded defensive player of the year and all-league first team. Her teammates Kowalski and Yordy were also awarded all-league first team.
Senior Kaya Vogt was awarded all-league second team while freshmen Erykah Cornett and Sophia Kapszukiewicz were awarded all-freshman team honors. 
The Norse came so close to pulling off the ultimate season comeback, but the loss leaves with a burning motivation to win it all next year.
"This team has so much potential, which makes me excited. Coming to NKU was the best decision of my life," said Yordy.