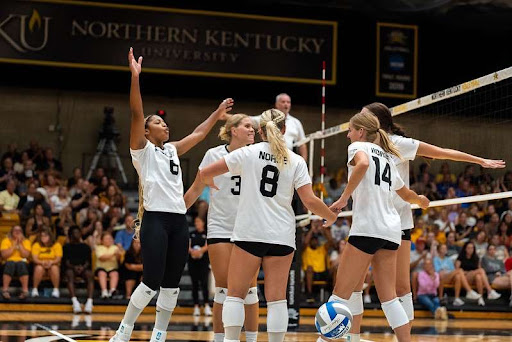 The NKU Volleyball team opened their 2023 campaign on their brand new court by hosting No. 14 seed Ohio State in a sell-out match Friday night. 
 The Buckeyes gained a big lead early in the first set, with some strong serves and defensive blocks. The Norse won some momentum back midway through the set with four points in a row, to narrow the Buckeyes lead to 4. Ohio State would go on to win the first set 25-17.
 Ohio State started the second set as they intended to go on, gaining a 5-1 lead. The Norse fought their way back into the set and reached a tie at 11 points. A spike from sixth year Abby Kanakry would give the Norse their first lead of the match, with the score standing at 14-13. Once again, the Buckeyes' standout defensive blocks would cause the momentum to shift in favor of the visitor's, and they would go on to take the second set at 25-21.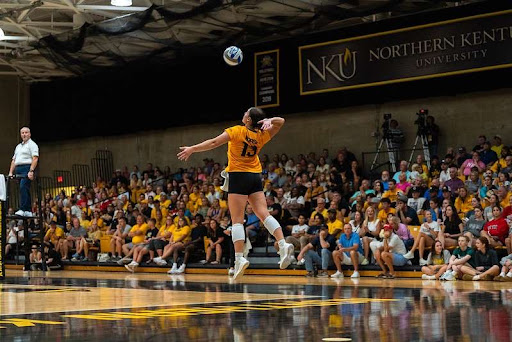 The third set proved to be the closest and most back-and-forth of them all. NKU gained an early lead with standout points from senior Torie Houston and Abby Kanakry, causing the Buckeyes to call their first timeout of the set, trailing 5-1. This timeout killed momentum for the home side, and Ohio State was able to level things up at 6-6. The two teams remained neck and neck into the middle of the third set, with standout spikes from Joy Banks. The Norse fought valiantly, but the Buckeyes would go on to win the third set 25-21.
 The Norse will be back in action at Regents Hall on Saturday, Aug. 26 against East Tennessee State and will look to begin their conference play on Tuesday, Sept. 19 away at Youngstown. The Norse were ranked No. 2 in this year's poll for the Horizon League.