Preview: Women's basketball ready to take on Detroit Mercy
At the beginning of February, it seemed the NKU Norse women's basketball team had found their stride. A three game win streak over Milwaukee, Oakland and Detroit Mercy had the Norse sitting in sixth place in the Horizon League standings.
The momentum did not last, however, as the Norse would lose their last four games of the season, including a blowout loss to ninth place UIC on the road and a heartbreaker against Youngstown State during senior night in BB&T Arena.
The Norse ended their season 8-21 with a 6-12 conference record, which earned them the eighth seed in the Horizon League tournament. NKU will face Detroit Mercy, the ninth seed, on Friday at 2:30 p.m.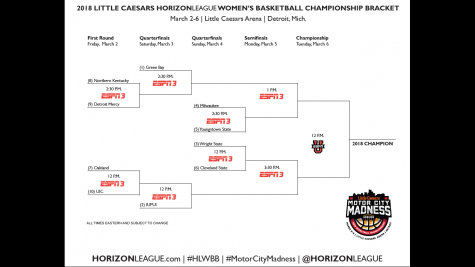 Last season, NKU fell to 10th seeded UIC in the first round of the tournament.
The Norse swept the season series against Detroit Mercy this season. The Titans are just 2-21 on the season and 2-16 in Horizon League play, both wins coming against the Flames.
The Titans allow almost 80 ppg and only score 59 ppg. The Norse defense holds teams to 61.3 ppg but score just 57.8 ppg.
While the Norse may have a decent first round draw, it will get exponentially more difficult. Should NKU defeat the Titans, they will face nationally ranked Green Bay, who won the Horizon League regular season title and are looking to secure their 16th Horizon League tournament champion.
The Norse upset the Phoenix earlier in the season in BB&T Arena on Dec. 30. Since then, Green Bay has just lost one time to Cleveland State.
The Norse have shown signs throughout the season that they can compete with everyone in the Horizon League, but haven't found a way to put it all together. NKU's defensive limits possessions, but with such a limited offensive game it's difficult for the Norse to pull out victories late in games.
Friday's game is scheduled to tip-off at 2:30 p.m. in Little Caesars Arena in Detroit and will be available on ESPN3.