Norse softball falls to No. 16 Kentucky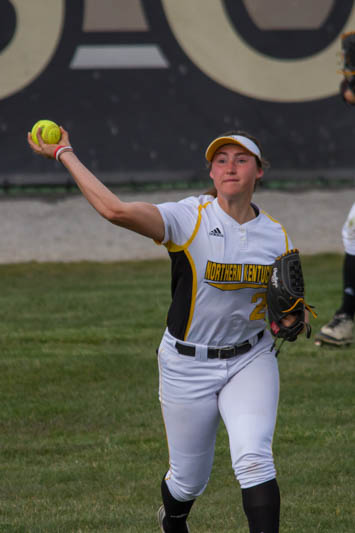 The NKU softball team lost 2-1 to No. 16 Kentucky on Wednesday. The loss brings the Norse to 6-20 on the season, and 1-5 at home. Kentucky advances to 23-6 on the season.
NKU's Charlie Nolen pitched seven complete innings, giving up just two runs on six hits and striking out two.  
"That's a huge lift for us," Head Coach Kathryn Gleason said. "She stayed poised the entire game and she knew she had great defense behind her."
The Norse jumped in front in the bottom of the second inning, when Ava Lawson doubled in the left-centerfield gap, scoring Zahyra McFarland. Lawson had two of the five Norse hits on the day.
"We were ready to play today," Gleason said. "We just dug in at the plate, and just played the game. That's what we always talk about. We don't play the jersey, we play the game."
Kentucky answered back in the top of the fifth when Katie Reed hit a sacrifice fly to right field, scoring Jenny Schaper and tying the game at one.
Kentucky's Rachael Metzger started the top of the seventh with a double, giving the Wildcats a runner in scoring position with no outs.
Two batters later, Sarah Rainwater doubled to center field, scoring Metzger and giving Kentucky a 2-1 lead.
Lawson led the bottom of the seventh off with a single, but was left stranded at third base with a chance to tie when Kate Bartolovich struck out swinging to end the game.
The Norse return to Horizon League action this weekend, traveling to Oakland for a two-game weekend series with the Golden Grizzlies.