Norse fans gather to witness history
The Skyline Tavern was packed as Northern Kentucky University students, alumni and fans gathered to watch the NKU Norse win the Horizon League tournament, defeating the Milwaukee Panthers.
As the night went on the venue became crowded with students watching the game and cheering on the Norse.
Ethan Losier, a senior at NKU, was excited to be at Tavern because he saw a good amount of students excited to watch the NKU Norse try to earn a NCAA tournament bid.
"It's nice having a successful basketball team and having something that we can really get behind as a student body," Losier said.
Also in attendance was senior Christina Muenchen, who remembers when NKU started to play games as a D1 school.
"It's exciting, seeing it change from what it started as and what it is now," Muenchen said. "You wouldn't have seen this four years ago, so it's really cool to be a part of it."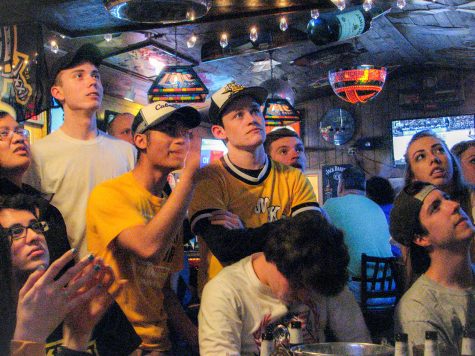 Losier and Muenchen are both hoping that NKU will face the Kentucky Wildcats or Louisville Cardinals in the first round of the NCAA tournament.
Troy Cornes, a junior at NKU, is hoping that the Norse will face the Louisville Cardinals next since the Cardinals have lost to other small schools before.
"If anyone knows anything about March Madness: there is always a cinderella story," Cornes said. "There's always a bracket buster."
With this being NKU's first chance to make the NCAA tournament, watch parties like the one at Skyline Tavern were commonplace at sports bars and restaurants across the region.
It was just like being with the rest of the Norse fans at Joe Louis Arena, Cornes said.
"It felt like we were actually at the game," Cornes said. "No matter who you are, or what you do on this campus, we are all NKU."
The NKU Norse will find out when and who they will play Sunday during the selection show. It will be televised on CBS at 5:30 p.m.