Norse lose fourth straight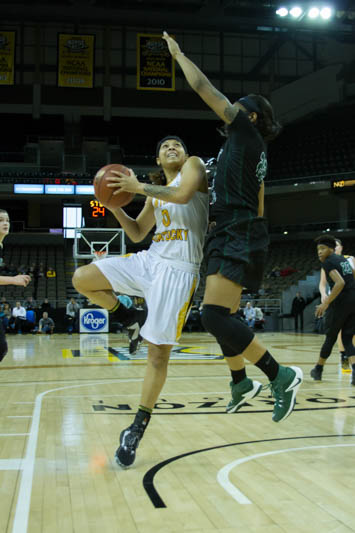 The NKU women's basketball team played their final road game of the season at Oakland on Monday night, and lost to the Golden Grizzlies 86-66. The Norse have now lost four straight games, have fallen to 8-20 on the season and 4-12 in the Horizon League.
Freshman Taryn Taugher led the Norse with 15 points. Kelley Wiegman, Mikayla Terry, and Rebecca Lyttle were all in double figures for the Norse. NKU shot 44 percent as a team, and outrebounded Oakland 34-31.
NKU scored 20 points in the first quarter to give themselves a four point lead going into the second quarter. Terry came out hot, scoring seven points in the first quarter.
At halftime, the Norse trailed the Golden Grizzlies 40-38 despite the fact that NKU had eight players score in the first half including senior Shar'Rae Davis, who added four rebounds and five assists.
The Norse got to the free throw line 15 times in the first half, converting 11 free throws and also knocking down three 3-pointers.
NKU quickly regained the lead after halftime on a 3-point shot by Taugher, but couldn't hold on the rest of the quarter. Oakland led by six points going into the final quarter.
The fourth quarter was all Oakland, as the Golden Grizzlies pulled away from the Norse to win their third consecutive game. NKU couldn't stop Taylor Jones, who finished with 21 points, six assists, and five rebounds for the Golden Grizzlies.
The Norse return to BB&T Arena for their final two home games this weekend beginning with Milwaukee at 5 p.m. on Feb. 24. The game will be available to watch on ESPN3.